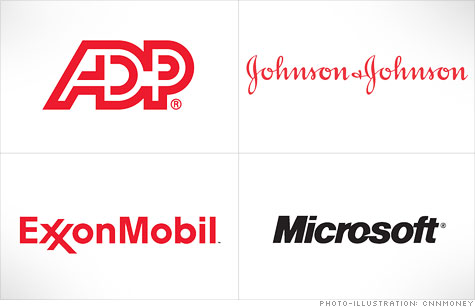 August's 'madness' has a very different Final Four than March's.
NEW YORK (CNNMoney) -- There are currently four U.S. companies that have a better credit rating than their own country, according to Standard & Poor's: Automatic Data Processing, Exxon Mobil, Johnson & Johnson, and Microsoft.
"There's a certain amount of irony having AAA companies in an AA country," said Kevin Giddis, managing director of fixed income at Morgan Keegan.
For Exxon, J&J and Microsoft, S&P reaffirmed their AAA ratings Monday, saying that "given the global and diverse business lines and significant financial strength" of the companies, "we expect the borrower to continue to fulfill its financial obligations, even in a sovereign default scenario." S&P said the same of ADP, even though most of its customers are U.S.-based.
S&P also noted that the Final Four are all non-financial firms. That insulates them from the impact of the U.S. downgrade, which has little effect on the companies' ability to make good on their debts.
In recent analyst notes, S&P praised ADP's (ADP, Fortune 500) "consistent revenue and earnings growth," Exxon Mobil's (XOM, Fortune 500) "very conservative business model," J&J's (JNJ, Fortune 500) "promising pipeline," and Microsoft's (MSFT, Fortune 500) "largely organic growth."
Experts say the only change those four companies may see is a lowering of their corporate bond yields, reflecting greater demands for their bonds. Funds that require AAA-rated investments may look towards the Final Four now that the United States has been downgraded by one of the three major ratings agencies.
That's already started to happen, to a degree. The Final Four have been among the most actively traded bonds since S&P gave the country a "credit watch negative" warning in the middle of July. Since bond prices and yields trade in opposite directions, those yields have begun to fall.
They'll probably begin to fall much farther if the other two major credit rating agencies, Moody's (MCO) and Fitch, follow suit and downgrade the U.S. debt.
"Corporate debt doesn't trade that much -- there's just not as much to go around as there are U.S. Treasuries," said Bill Larkin, portfolio manager at Cabot Money Management. "But if there are further downgrades, then people will look at the corporate debt market more seriously."
Some investment funds that require AAA will likely just change their requirements to the next-highest rating, AA+.
Decades ago, there was a lot more AAA to go around. In 1983, there were a record 32 non-financial companies rated AAA. But a stumbling economy, an increasingly globalized market, and lots of mergers and acquisitions have made AAA a true rarity.
The AAA club was whittled down to four in 2008, when Berkshire Hathaway (BRKA, Fortune 500), General Electric (GE, Fortune 500), and Pfizer (PFE, Fortune 500) lost their ratings during the financial crisis.
There are a handful of companies that would be considered AAA today but don't carry a rating because they carry no debt. With $76 billion in cash on hand, Apple (AAPL, Fortune 500) is probably the best example. It doesn't need to borrow, and has no rating.
Technically, if S&P were to follow its own rules, all four remaining "AAA" companies would be downgraded on Monday. That's because all credit raters follow what's known as a "sovereign ceiling," in which no company can borrow on better terms than its own country.
But that rule has been broken repeatedly. S&P has made 107 exceptions in 21 countries across the globe.