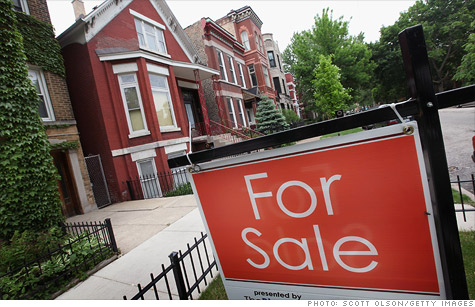 NEW YORK (CNNMoney) -- In a move that could shake the housing market, credit rating agency Standard and Poor's on Monday downgraded the debt of mortgage finance giants Fannie Mae and Freddie Mac.
The downgrades to AA+ are part of the continued fallout from the agency's decision to drop U.S. sovereign debt to AA+, an unprecedented move that rattled investors and sparked concern over the long-term impact of the action.
It was widely expected that S&P's downgrade of U.S. debt would roll downhill to other entities that are closely linked to the federal government.
Fannie and Freddie, which were taken over by the government in 2008, fuel home sales by purchasing mortgages from banks.
"The downgrades of Fannie Mae and Freddie Mac reflect their direct reliance on the U.S. government," S&P said in a statement.
Since 2008, Fannie and Freddie have cost taxpayers $141 billion because the federal government has poured money into them in an effort to stabilize the housing market.
Together with Ginnie Mae, the firms guarantee more than 80% of the nation's mortgages.
Still, it's not clear what -- if any -- affect the downgrades on Fannie and Freddie might have on mortgage rates.
Some observers -- even S&P itself -- had feared interest rates would spike after a U.S. downgrade. And that could hit home buyers because mortgage rates are pegged to long-term Treasury yields.
In addition, the downgrades announced Monday could affect the prices Fannie and Freddie pay to borrow.
But the immediate reaction at least seems muted.
Treasury yields actually fell Monday, likely because the United States remains a good credit risk in the eyes of investors. Yields have fallen sharply in recent weeks -- and the 10-year Treasury yield is now at its lowest level since October 2010.
Investors would have to flee Treasuries for consumers to be affected -- something that the elevated levels of uncertainty in the global economy make unlikely.
"I don't think the S&P downgrade will have any meaningful impact on mortgage rates," said Mark Zandi, chief economist for Moody's Analytics. "The downgrade undermines confidence and the economic outlook and Treasury yield have reacted by falling."
S&P also said it was downgrading the Federal Home Loan Banks, which support consumer credit by making loans to other banks.
Highly-rated businesses are expected to be let off the hook by S&P. Corporations that are based in the United States that have a AAA rating -- like Johnson & Johnson (JNJ, Fortune 500) -- should keep their sterling credit rating.