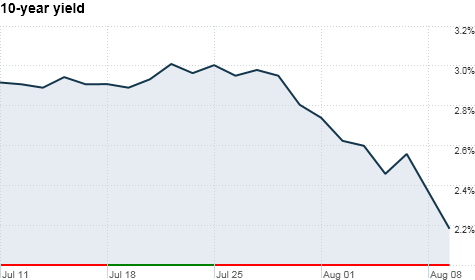 Click chart to track yields.
NEW YORK (CNNMoney) -- Treasury yields resumed their downward slide Tuesday after the Federal Reserve said it plans to keep interest rates "exceptionally low" until at least 2013.
The central bank acknowledged that economic growth in the United States is "considerably slower" than expected -- a change from prior statements.
Stocks plummeted on the news, while Treasury prices spiked, briefly dropping the benchmark 10-year yield to 2.03% -- matching its all-time record low.
The move down was swift.
"It was instant. I mean huge," said Kim Rupert, a fixed income analyst at Action Economics.
Yields for the 10-year note rebounded to 2.25%, down from the previous session's close of 2.33%. The 2-year dropped to 0.20%, and the 5-year fell to 0.98%. Meanwhile, the 30-year yield declined to 3.65%.
Investors had been on the lookout for hints that the Fed will take steps to stabilize markets, and revitalize the slowing economic recovery to avoid a double-dip recession.
In June, the Fed completed a $600 billion stimulus effort known as the second round of quantitative easing, or QE2. Investors were hoping the Fed might give hints about more bond purchases.
But that help wasn't on the way.
"Investors were looking for a little more confidence, or support," said Bill Larkin, portfolio manager at Cabot Money Management. "It just didn't surface."
Before the Fed announcement, the U.S. Treasury held a sale of $32 billion in 3-year notes.
It is the first auction held since Standard and Poor's knocked U.S. debt down one notch from AAA to AA+ late last week.
The bid-to-cover ratio, a measure of demand, came in at 3.29 -- roughly in line with other recent auctions of 3-year notes.
The results are one more indication that investors are not afraid to stash their money in Treasuries, even with the warning from S&P.
In uncertain times, investors typically flee risky assets such as stocks and pile into perceived safe havens, which for now include U.S. Treasuries.
Some observers had suggested the tarnishing of America's AAA rating would drive investors out of Treasuries, but the opposite happened.