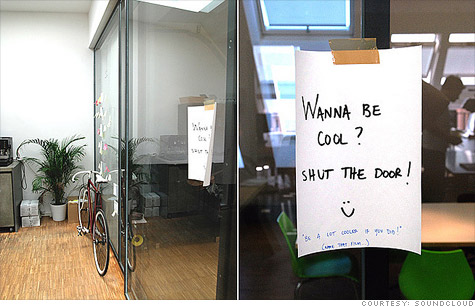 SoundCloud's Berlin office has the same decor and whimsical vibe found throughout Silicon Valley's startups.
BERLIN (CNNMoney) -- On the busy corner of Torstrasse, a street in the center of Berlin's Mitte district, a coffee shop called St. Oberholz serves as a meeting point and co-working space at what's fast becoming Europe's hottest startup hub.
Inside, Macs sit on long wooden tables in front of large windows overlooking the bustling street corner. Across the way, an elderly man with an accordion serenades a group of young guys playing on their iPhones near a large building that headquarters startups.
It's all part of the bustling Berlin tech scene.
With a history of booms and busts and a network of established companies and investors, Silicon Valley will always be the standard bearer of tech hotspots. The Berlin startup scene is a wild child -- fast-growing, more chaotic and with fewer rules to abide by.
"It's an industry in Silicon Valley," says Anna Ott, a Berlin-based startup recruiter at i-potentials. "The Berlin startup scene is not that much of an industry yet. It's a bit more unregulated -- not that grown-up."
Ask what's hot in Berlin's startup circles, and you'll hear one name over and over: SoundCloud.
Launched four years ago, the Web-based sound-sharing platform lets users -- typically musicians -- upload, share and stream their recordings.
"We build it like an open platform" co-founder Alex Ljung says. There are currently around 200 apps tapping into SoundCloud, which has positioned itself as the go-to spot for artists who want to easily share their music with collaborators and fans.
Ljung casts SoundCloud as the audio equivalent of what Yahoo's (YHOO, Fortune 500) Flickr did for photos and Google's (GOOG, Fortune 500) YouTube did for videos on the Web. Sound files can be shared publicly or privately, and SoundCloud is extensively linked in to Facebook, Twitter and other social networks.
SoundCloud is to Berlin what location-based social network Foursquare is to New York -- a startup that embodies and thrives in its surroundings.
New York City, with its high density of restaurants and bars, served as the perfect testing ground for Foursquare, a service that encourages people to check-in and share their locations. Berlin, known for its creative vibe and underground music and art scenes, has been an ideal backdrop for a venture looking to make sound a shared experience.
Ljung describes the city itself as startup: ever-changing and innovative, creative with a bit of an anti-establishment attitude.
"It has a tradition of the counterculture and wanting to do things a different way," he says. "You go back to why people start startups -- they want to do things differently."
Berlin's current air of artistic and entrepreneurial freedom is linked to its tumultuous history. Walk though the city and you'll pass structures and monuments that have been destroyed and rebuilt, only to be destroyed and rebuilt again during World War II. Buildings punctured with bullet holes are a constant reminder of Nazi Germany and the city's post-war struggle.
But since the Berlin Wall fell in 1989, the city has let its hair down -- pivoting yet again to become a center for all things creative: technology, design, fashion, music.
"When the Wall came down, they thought -- what can we do with the city?" says Felix Petersen, a local serial entrepreneur.
In early 2000, Berlin's mayor Klaus Wowereit answered that question with a simple phrase: "Berlin: arm, aber sexy" -- poor but sexy. He encouraged an influx of creative industries, hoping to battle the soaring unemployment that burdened the city.
The rent is cheap in Berlin, and industries cross-mingle. Startups are headquartered behind graffiti-covered buildings, DJ's are also tech CEOs, artists are working on apps, late night parties are a norm and biergartens are often where the deals are made.
That whimsical air has incubated some serious business ventures. Petersen sold his last venture, Plazes, to Nokia (NOK), and is currently working on a stealth-mode startup. Called Amen, its co-founder is Florian Weber, one of Twitter's original engineers and a longtime Berlin resident.
Venture capitalists are also sniffing around. New York-based Union Square Ventures is a SoundCloud investor, and in July, managing partner Fred Wilson flew over for a board meeting.
"Berlin and NYC are like sister startup cities," he wrote soon after in his blog. "They remind me of each other in many ways with Berlin a few years behind NYC in terms of its overall development."
"It's a creative melting pot," recruiter Ott says. "I'm always excited about these entrepreneurs -- people who are willing to give up everything they have, every security they have, every relationship -- just for building their ideas and seeing them through."