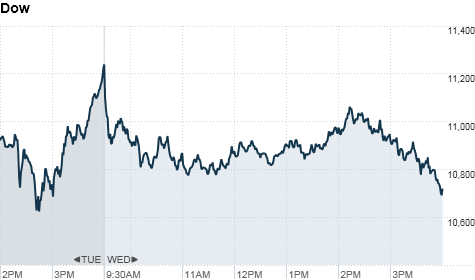 Click the chart for more market data.
NEW YORK (CNNMoney) -- After a one-day respite, U.S. stocks plunged sharply yet again Wednesday as investors were confronted with mounting fears about Europe's ongoing debt crisis, this time in France.
The Dow Jones industrial average (INDU) lost 520 points, or 4.6%, to 10,720. The index ended the day near session lows.
The S&P 500 (SPX) fell 52 points, or 4.4%, to 1,121; and the Nasdaq composite (COMP) lost 101 points, or 4.1%, to 2,381.
Stocks were led lower by the financial sector. On Wednesday afternoon CEO of embattled Bank of America (BAC, Fortune 500) Brian Moynihan tried to reassure investors that conditions at the bank and in the country are much better than they were four years ago when the financial crisis hit. The comments were made during a call hosted by investor Bruce Berkowitz of Fairholme Capital Management.
But the comments were not enough. Shares of the Dow component plunged 11% on the day. BofA has fallen nearly 50% so far this year.
Other names in the financial sector were hit just as hard. Shares of Citigroup (C, Fortune 500), Goldman Sachs (GS, Fortune 500) and Morgan Stanley (MS, Fortune 500) dropped about 10%. Shares of Wells Fargo (WFC, Fortune 500), UBS (UBS) and JPMorgan Chase (JPM, Fortune 500) were down around 7%.
Along with BofA's problems, investors remain worried about the Europe's ongoing sovereign debt crisis.
Ever since Standard & Poor's stripped the U.S. of its AAA credit rating on Friday, fears have been building that rating agencies may also downgrade AAA-rated nations in Europe, since they are also struggling with massive debt problems.
On Wednesday, shares of French bank Societe Generale tumbled 15% on the Paris stock exchange amid speculation that France, Europe's second-largest economy after Germany, may be first to face a rating cut.
European banking shares also fell sharply. Deutsche Bank's (DB) stock dropped 12% while Spanish bank Banco Santander (STD) dropped 9.5%.
Even though the major rating agencies have reiterated France's AAA rating, "there's growing concern that France could get downgraded," said Tom Schrader, managing director at Stifel Nicolaus. "There's fear that S&P might do something stupid."
Market volatility: Stocks finished Tuesday's session with huge gains after the Fed left key interest rates unchanged, saying that deterioration in the labor market and slower-than-expected economic growth will require the central bank to keep interest rates "exceptionally low" until the middle of 2013.
The major indexes have been swinging between massive gains and losses during trading, and ending sessions either overwhelmingly higher or lower.
So far this month, all three indexes are down more than 10% and are on track to post the worst losses since October 2008.
Yo-yo action in the markets tends to spoil confidence among investors, and in turn, that lack of faith fuels additional volatility.
Ahead of the opening bell Wednesday, the New York Stock Exchange invoked Rule 48, which gives the exchange the right to pause trading in the event of extreme volatility. The NYSE typically invokes the rule several times each year.
Wall Street's most widely cited measure of volatility and fear in the market, the VIX (VIX), surged almost 22% to 43.
A reading higher than 30 is considered a sign that investors are getting worried, but the VIX is still way below the peak level of almost 90 hit in October 2008 -- after Lehman Brothers collapsed.
World markets: European stocks closed deep in the red. Britain's FTSE (FTSE) 100 fell 3.1%, the DAX (DAX) in Germany dropped 4.3% and France's CAC (CAC) 40 plummeted 5.1%.
Asian markets ended the day with solid gains, reflecting Tuesday's U.S. advance. The Shanghai Composite gained 0.9%, the Hang Seng in Hong Kong popped 2.3% and Japan's Nikkei increased 1.1%.
Economy: The government said wholesale inventories rose 0.6% in June, less than forecasts for a 1% rise.
Companies: London-based HSBC Holdings sold its U.S. credit card arm to Capital One (COF, Fortune 500) for $2.6 billion. Shares of HSBC (HBC) slipped 7.5%, while Capital One's stock gained less than 1%
Dow member and communications equipment maker Cisco Systems (CSCO, Fortune 500) posted a profit of 40 cents a share after the closing bell, beating the 38 cents that analysts had been looking for. Shares were up 2% in after-market trading.
Media giant News Corp. (NWSA, Fortune 500), which has recently been in the news due to its alleged part in the U.K.'s phone hacking scandal, also was reporting after the close.
Currencies and commodities: The dollar gained 1% against the euro and the British pound, but was lower versus the Japanese yen.
The greenback also rose against the Swiss franc, after the Swiss National Bank announced additional measures to curb the franc's rise. The central bank also attempted to weaken its currency last week.
Oil for September delivery rose $3.50 to $82.80 a barrel.
Gold futures for December delivery gained $45.30 to settle at $1,788.30 an ounce. Earlier, gold futures hit an intraday high of $1,801 per ounce.
Bonds: The price on the benchmark 10-year U.S. Treasury rose slightly, pushing the yield down to 2.10% from 2.18% late Tuesday.