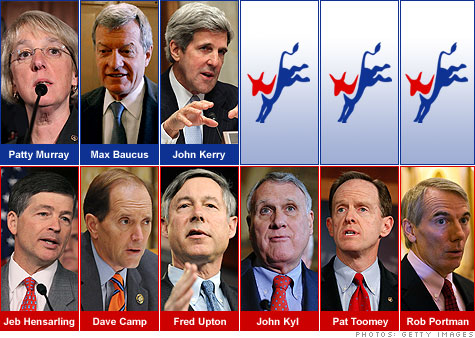 The debt super committee is shaping up: Next move belongs to House Democrats.
NEW YORK (CNNMoney) -- Washington has a compromise problem. And now, lawmakers face a seemingly impossible task -- find a way to institute reforms that have eluded policymakers, all while markets and rating agencies watch with rapt attention.
After risking default, the nation's lawmakers agreed last week on a plan to raise the debt ceiling.
The deal slashed spending. But it included no tax hikes and no entitlement reforms -- items that virtually every budget expert says are needed.
Those tough choices were kicked down to a 12-member bipartisan super committee tasked with finding another $1.5 trillion in budget savings.
"What we need to do now is combine those spending cuts with two additional steps: tax reform that will ask those who can afford it to pay their fair share and modest adjustments to health care programs like Medicare," President Obama said this week.
That sounds easy enough -- but it will actually require mountains of political will and lawmakers who are willing to risk their jobs.
"There is no question about the political backlash they will face," said Julian Zelizer, a professor of history and public affairs at Princeton University. "There are a lot of reasons to be skeptical."
The first three lucky lawmakers to be appointed were Democratic Sens. Patty Murray, Max Baucus and John Kerry.
Republicans announced their choices on Wednesday. Reps. Jeb Hensarling, Dave Camp and Fred Upton garnered appointments from the House. And Jon Kyl, Pat Toomey and Rob Portman will represent Senate Republicans.
When the full committee is assembled, job No. 1 will be finding a way to break through the gridlock and partisanship that has Washington tied in knots.
Indeed, the inability of lawmakers to compromise has already wrecked havoc on financial markets.
Late last week, Standard & Poor's made perfectly clear that while the U.S. is in a shaky fiscal position, the intractable debate over the debt ceiling and the inability of politicians to compromise contributed to their decision to downgrade.
"The political brinkmanship of recent months highlights what we see as America's governance and policymaking becoming less stable, less effective, and less predictable," S&P said in its statement.
Eric Cantor, the number two Republican in the House, acknowledged S&P's position in a memo sent Monday to fellow Republicans, but advised against ceding any ground on taxes.
"There will be pressure to compromise on tax increases," Cantor wrote to his colleagues. "We will be told that there is no other way forward. I respectfully disagree."
Cantor's inflexibility on the issue of taxes is not new -- in the same way Democrats have not been willing to consider big cuts to Medicare.
"The new Republican majority was elected to change the way Washington does business," Cantor told his colleagues. "We were not elected to raise taxes or take more money out of the pockets of hard working families and business people."
In other words: No compromise.
"The older political fears are still there and this committee is not just going into a closed room and make deals without considering the political consequences," Zelizer said.
Still, there are two factors that might spur a compromise, Zelizer said. The first is the financial and economic ramifications of a failure to strike a meaningful deal.
The second is $1.2 trillion in across-the-board cuts that would kick in -- evenly divided between defense and non-defense spending, a consequence that is unthinkable for both Democrats and Republicans.
And while compromise remains a dirty word in some quarters, if lawmakers want to keep their jobs, they might consider changing business as usual.
The bitter debate over raising the debt ceiling the first time around sent congressional approval ratings to historic lows. And for the first time ever, most Americans don't believe their own member of Congress deserves re-election, according to a new CNN/ORC International Poll.