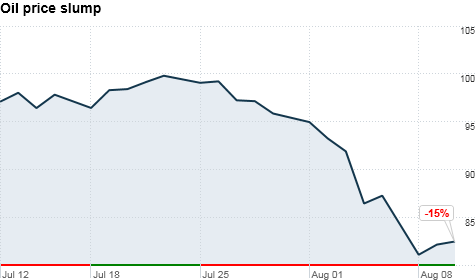 Click on chart to track commodities
NEW YORK (CNNMoney) -- The International Energy Agency, in the wake of the recent plunge in oil prices, warned Wednesday that continued global economic weakness through next year could slow demand for oil.
The IEA, in its monthly report, said that oil prices have dropped as much as $15 per barrel since early August "amid growing concerns over government debt and the likely impact on the global economy."
The IEA said the world oil supply averaged 88.7 million barrels per day in July, which is relatively robust compared to the prior month. That's an increase of 600,000 barrels from the daily average in June.
But the demand has been down slightly in 2011, by 100,000 barrels per day. The IEA said this year's demand has been trimmed by "high prices and slowing economic growth."
"In the wake of recent market turmoil and souring economic indicators, the potential has grown for lower-than-assumed economic growth and oil demand," the report said.
Greater oil needs from Japan are expected to pick up that slack next year, according to an IEA forecast, but only by 100,000 barrels per day.
The IEA said that the International Monetary Fund's forecast on global GDP, of 4.2% for 2011 and 4.4% for 2012, "may ultimately prove too optimistic."
"Concerns over debt levels in Europe and the U.S., and signs of slowing economic growth in China and India have spooked the market and raised fears in some quarters of a double-dip recession," read the report. "From an oil market standpoint, perceived wisdom is that this must inevitably mean weaker oil demand to come."
So the IEA has lowered its forecast. It now expects demand for oil to increase by 1% in 2011, to a daily average of 89.1 million barrels per day. That's compared to 1.4% growth to 89.5 million, based on the IMF projection for GDP.
The IEA now forecasts that demand will increase by 0.7% to a daily average of 89.8 million barrels in 2012, assuming a weak economy. That's compared to 1.8% growth to 91.1 million barrels, based on the IMF assumption for economic growth.
Oil prices were little changed on Wednesday, edging up 57 cents to $79.87 per barrel, after a sharp downturn in recent weeks in line with that of stock markets.