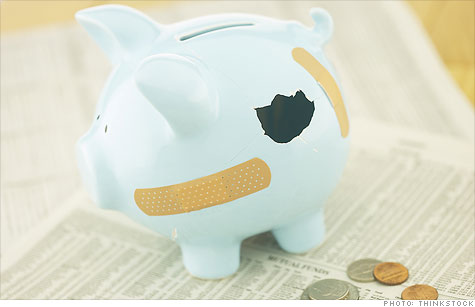 It's less than the cost of a car repair, but many Americans would struggle to come up with $1,000.
NEW YORK (CNNMoney) -- When the unexpected strikes, most Americans aren't prepared to pay for it.
A majority, or 64%, of Americans don't have enough cash on hand to handle a $1,000 emergency expense, according to a survey by the National Foundation for Credit Counseling, or NFCC, released on Wednesday.
Only 36% said they would tap their rainy day funds for an emergency. The rest of the 2,700 people polled said that they would have to go to other extremes to cover an unexpected expense, such as borrowing money or taking out a cash advance on a credit card.
"It's alarming," said Gail Cunningham, a spokeswoman for the Washington, DC-based non-profit. "For consumers who live paycheck to paycheck -- having spent tomorrow's money -- an unplanned expense can truly put them in financial distress," she noted.
That's the case for Allyson Curtis, 35. "I think about it every day," she said.
Curtis was unemployed for only three months last year, but in that time she accumulated $5,000 in credit card debt that she's now struggling to pay down. In the case of an emergency, Curtis said she would likely postpone other payments and pile on additional debt.
She is already putting off $450 in dental work and a car inspection due to a crack in her windshield, which will cost $300 to replace, she said.
Many respondents, 17%, said they would borrow money from friends or family. Another 17% said they would neglect other financial obligations -- like a credit card bill or mortgage payment -- in order to free up some funds.
Alternatively, 12% of the respondents said they would have to sell or pawn some assets to come up with $1,000 and 9% said they would need to take out a loan. Another 9% said they would get a cash advance from a credit card, according to the NFCC.
Cunningham finds that particularly troubling. Neglecting other debt obligations -- or worse piling on more debt -- "really exacerbates the problem," she said.
An earlier study by the same organization found that 30% of Americans have zero dollars in non-retirement savings. A separate study by the National Bureau of Economic Research found that 50% of Americans would struggle to come up with $2,000 in a pinch.
Has all of the market turmoil prompted you to move all of your retirement investments into cash? If so, we'd like to hear from you. If you'd like to share your story with CNNMoney, email blake.ellis@cnnmoney.com.