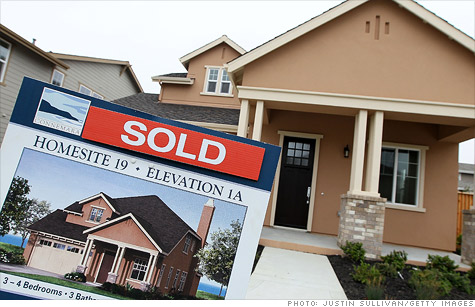 Home prices slid 2.8% in the second quarter of 2011, according to the National Association of Realtors.
NEW YORK (CNNMoney) -- Housing markets struggled through another tough quarter, this time during the spring buying season, the strongest time of year for home sellers.
Prices of existing homes fell 2.8% in the three months ended June 30 compared with the same period in 2010, according to a report issued Wednesday by the National Association of Realtors (NAR).
For Lawrence Yun, NAR's chief economist, the report was a continuation of a trend that began in 2009.
"Median home prices have been moving up and down in a relatively narrow range in many markets, which shows a stabilization trend," he said in a statement. "Markets showing consistent price stability or increases are those with solid labor market conditions, such as in Washington, San Antonio, or Fargo, N.D."
Prices have bounced around a bit the past two years but have wound up in about the same place. The median price for all existing homes sold during the quarter was $171,900, almost matching the price level of all of 2009 -- $172,100.
Sales volume was off 5.4% compared with a quarter earlier to an annualized rate of 4.86 million units, and was down 12.7% from the second quarter of 2010.
The sales volume decline came despite some of the best buying conditions ever. Interest rates stayed very low throughout the quarter. NAR's Affordability Index -- a calculation based on home prices, interest rates and family income -- was at its third highest level in history, trailing only the preceding two quarters.
The stagnant economy, with a slow recovery in hiring, has hurt sales. Another big headwind is the strict underwriting standards lenders are applying to mortgage applicants in the wake of the financial crisis.
There could be "a more rapid sales recovery if banks get back into the business of lending to more creditworthy borrowers," said Yun.
There's good reason that buyers are not acting, according to Anthony Sanders, director of real estate entrepreneurship at George Mason University.
"I wouldn't advise anyone to buy at this time," he said. "I felt there was a glimmer of hope that the [Obama] administration and Congress would work together to create jobs again. But after the debt ceiling debate, I'd be scared to death if I was a homebuyer."
The latest turmoil in the financial markets, the S&P downgrade of U.S. debt and the increasingly dire budget prospects faced by some eurozone nations could choke off home sales even further, he said.
The most expensive of the 150 metro area markets that NAR reported on was San Jose, Calif. at $610,000, followed by Honolulu at $609,500 and Anaheim, Calif., at $536,700.
The cheapest market was Youngstown, Ohio at $74,800, with Toledo, Ohio, at $75,200, and Ocala, Fla., at $79,800, close behind.
Cape Coral, Fla. recorded the biggest year-over-year gain, 17.9% to $110,900. Elmira, N.Y. had the second biggest increase, 16.1% to $115,200, and Dallas came in 12.5% higher at $151,500.
The biggest loser was Salem, Ore, where prices plummeted a whopping 22.6% compared with 12 months earlier to $136,800. Next was Minneapolis, where prices plunged 17.7% to $145,000, and Toledo, with a 17.3% slide.