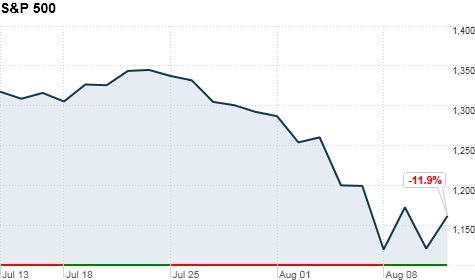 NEW YORK (CNNMoney) -- Corporate insiders are rushing to buy shares in their companies, suggesting that they think the recent sell-off in their stocks is overdone.
"There's a lot of buying and it's widespread across all market cap groups and all sectors," said Ben Silverman, director of research at InsiderScore.com.
Insiders at a company, either top executives or members of the board of directors, have to report the purchases and sale of shares of the company to the Securities and Exchange Commission.
Because so much of executive compensation is in the form of stock, the filings typically show more insiders selling shares. But according to firms that track insider transactions, there has been a spike in buying during the last week.
Research firm TrimTabs calculates that insiders have already bought $861 million so far in August, the most since just over $1 billion of insider purchases back in March 2009. That's significant since it's the month in which stocks hit their lows during the last recession and started two years of steady gains.
"Insiders are saying prices have gone too far," said Charles Biderman, CEO of TrimTabs. He said the confidence of insiders is in stark contrast to individual investors, who have accelerated their withdrawal of money from stock mutual funds so far this month.
Stocks have lost $2.8 trillion in value from July 22 through the 520-point drop in the Dow Jones industrial average on Wednesday. But stocks were holding onto gains in early afternoon trading Thursday on some rare good economic news and a decent earnings outlook from Dow component Cisco (CSCO, Fortune 500).
Silverman said insiders have made 35 purchases worth more than $1 million so far this month. The largest is by Harold Simmons, chairman of Titanium Metals (TIE), who spent $8.2 million to buy 600,000 shares of the company on Monday.
Other high-profile buyers are Morgan Stanley (MS, Fortune 500) CEO James Gorman, who spent $2.1 million on 100,000 shares of the banking giant on August 4, and Morgan Stanley co-president Paul Taubman, who spent $1 million for 50,000 shares.
But just because an insider is buying doesn't mean the stock will go up immediately. Morgan Stanley shares are down 15% since Gorman's purchase last week. He's out more than $300,000 on the trade so far.
"Insiders can be wrong," said Jonathan Moreland, director of research at InsiderInsights.com. "You can't jump on every million dollar purchase or short every million dollar sale or you'll get creamed."
Moreland thinks it's a little too soon to call a bottom to the market based on the spike of insider purchases. He said there was a spike in insider buying in December 2008 that is more similar to what is happening now than the high point reached in March 2009.
"Remember how much stocks fell from December 2008 to March 2009," he said, referring to about a 25% drop in the S&P 500 during those few months.
Still, Moreland is encouraged by the swing from selling to buying within the last week. He said he has even bought stocks of some companies that have had heavy insider buying in the past week.
"There's a ton of specific stocks that look like great values right now," he said.