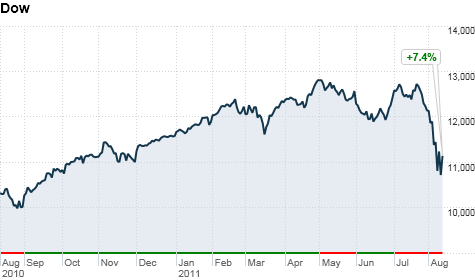 Click chart to track stock prices.
NEW YORK (CNNMoney) -- Rebound! Stock markets continued their schizophrenic week Thursday as all three indexes surged on positive earnings and labor market news.
The Dow Jones industrial average (INDU) jumped 423 points, or 3.9%, to close at 11,143.
The S&P 500 (SPX) added 51 points, or 4.6%, and the Nasdaq (COMP) rose 111 points to close 4.7% higher.
On Monday the Dow sank 635 points. On Tuesday it rallied 430 points. On Wednesday it plunged 520 points.
Optimism returned on Thursday -- but even with the Dow's spike, the index remains lower for the week.
Thursday's rally was driven by a report showing jobless claims fell to a four-month low, and by Cisco Systems' better-than-expected guidance for the current quarter. Shares of Cisco (CSCO, Fortune 500) jumped 16%, making the stock a top performer in all three major indexes.
A 18% rise in shares of News Corp. (NWSA, Fortune 500) also propelled the S&P 500 and Nasdaq. On Wednesday, News Corp. beat earnings and sales expectations despite recent phone-hacking allegations.
"Investors are looking for any signs that the United States will be able to avert a double-dip recession," said Mark Luschini, chief investment strategist at Janney Montgomery Scott.
Investors may also be coming back into the market since the steep drops recently have pushed stocks near record-low valuations, said Donald Selkin, chief market strategist at National Securities.
Stocks also got a boost after news reports sparked speculation that France and Italy might place a ban on short-selling. In addition, French President Nicolas Sarkozy and German Chancellor Angela Merkel said Thursday they were calling another emergency meeting to discuss the crisis.
Fears that France could be stripped of its AAA credit rating, in the aftermath of Standard & Poor's downgrade on the U.S., have been mounting and pressuring global markets. Investors have also been concerned about the solvency of French bank Societe Generale, or SocGen.
The relief over Europe's banking sector helped U.S. bank shares recover from the previous session's slide. Shares of Bank of America (BAC, Fortune 500) gained more than 6%, while JPMorgan Chase (JPM, Fortune 500) rose more than 6% and Morgan Stanley (MS, Fortune 500) shares increased by 10%.
World markets: The positive developments in Europe helped the region's stocks end higher. Britain's FTSE (FTSE) 100 rose 3.1%, Germany's DAX (DAX) added 3.3% and France's CAC (CAC) 40 gained 2.9%.
Asian markets ended mostly lower, but the losses were modest. Japan's Nikkei (N225) slipped 0.6% after falling more than 2% at the open. Hong Kong's Hang Seng (HSI) index dropped nearly 1%, while the Shanghai Composite (SHCOMP) rallied 1.3%.
Economy: A report from the Labor Department showed that weekly jobless claims fell to 395,000 last week, down 7,000 from the prior week.
The reading was better than the 409,000 claims economists were expecting.
U.S. trade deficit grew to $53.1 billion in June, from $50.8 billion in May. The gap was wider than the $48 billion expected by economists surveyed by Briefing.com.
Companies: Shares of AOL (AOL) soared almost 12%, after its board approved a plan to buy back $250 million in stock over the next year.
Currencies and commodities: The dollar fell against the euro, the Japanese yen and British pound.
Gold futures for December delivery fell $32.80 to $1,751.50 an ounce, after setting an intraday record high of $1,817.60 an ounce.
Oil for September delivery rose $2.83 to settle at $85.72 a barrel.
Bonds: The price on the benchmark 10-year U.S. Treasury fell, pushing the yield up to 2.33% from 2.14% late Wednesday.
Are you a retiree or about to retire? Has the recent market turmoil forced you to change your asset allocation or your plans for retirement? If so, please send an email to realstories@cnnmoney.com and you could be profiled in an upcoming piece on CNNMoney. Please include a number where you can be reached. For the CNNMoney Comment Policy, click here.