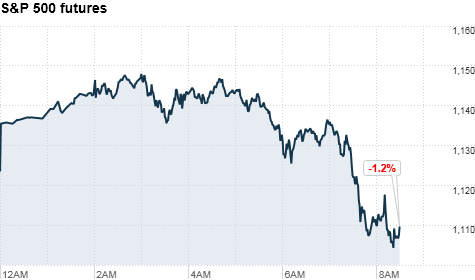 Click the chart for more premarket data.
NEW YORK (CNNMoney) -- Buckle up. U.S. markets are likely headed for another roller coaster ride Thursday, as investors weigh positive news at home against growing concerns about fiscal problems in Europe.
Stocks were poised for a higher start earlier, as investors pinned their hopes on an upbeat forecast from Cisco Systems. But as the clock ticked closer to the opening bell, futures turned lower, following a downturn in European stocks.
Less than an hour ahead of the opening bell, Dow Jones industrial average (INDU), S&P 500 (SPX) and Nasdaq (COMP) futures were all lower. Stock futures indicate the possible direction of the markets when they open at 9:30 a.m. ET.
The swing to the red came, as European stocks drifted into negative territory and fell to session lows, amid ongoing jitters about the region's debt crisis.
"Once again, investors are worried that France's credit rating will get downgraded, even though the rating agencies are saying they don't foresee having to do that," said Mark Luschini, chief investment strategist at Janney Montgomery Scott.
Ever since Standard & Poor's stripped the United States of its AAA credit rating last week, fears have been building that rating agencies may also downgrade AAA-rated nations in Europe, since they are also struggling with massive debt problems.
Concerns about the solvency of French bank Societe Generale, or SocGen, are also weighing on markets, despite the bank's denial of the allegations.
"The market is very tenuous right now," Luschini said. "The attitude is to sell first, and ask questions later."
The same rumors about France and SocGen sent U.S. stocks plunging Wednesday. The huge drop followed Tuesday's big rally, which followed an enormous decline on Monday.
With volatility still high, stocks could manage to move back into positive territory.
Earlier, investors were showing optimism about Cisco's better-than-expected guidance for the current quarter. Shares of Cisco (CSCO, Fortune 500) jumped nearly 12% in premarket trading.
Jobless claims were also better than forecast, falling below the key 400,000 level for the first time in four months.
World markets: After logging solid gains in the morning, European stocks fell to session lows in afternoon trading. Britain's FTSE (FTSE) 100 lost 0.6%, the DAX (DAX) in Germany fell 1.3% and France's CAC (CAC) 40 sank 2.6%.
Asian markets ended mostly lower, but the losses were modest. Japan's Nikkei (N225) slipped 0.6%, after falling more than 2% at the open. Hong Kong's Hang Seng (HSI) index dropped nearly 1%, while the Shanghai Composite (SHCOMP) rallied 1.3%.
Economy: A report from the Labor Department showed that weekly jobless claims fell to 395,00 last week, down 7,000 from the prior week.
That reading was better than the 409,000 claims economists were expecting.
The U.S. trade deficit grew to $53.1 billion in June, from $50.8 billion in May. The trade deficit was also wider than the $48 billion expected by economists surveyed by Briefing.com.
Companies: Companies reporting on Thursday include chip maker Nvidia (NVDA), and retailers Kohl's (KSS, Fortune 500) and Nordstrom (JWN, Fortune 500).
Currencies and commodities: The dollar fell against the euro, the Japanese yen and British pound.
Gold futures for December delivery rose $5.30 to $1,789.60 an ounce, after setting an intraday record high of $1,817.60 an ounce.
Oil for September delivery slipped 24 cents to $82.65 a barrel.
Bonds: The price on the benchmark 10-year U.S. Treasury fell, pushing the yield up to 2.20% from 2.14% late Wednesday.