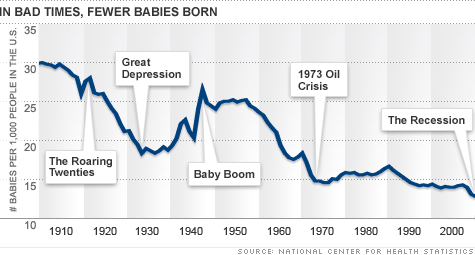 NEW YORK (CNNMoney) -- Right before the recession hit, the U.S. was undergoing a mini baby boom. Now, birth rates are declining fast.
The number of children born in the U.S. peaked with a record 4.3 million births in 2007, but has since fallen, dropping to 4 million births last year, according to estimates by the National Center for Health Statistics. The birth rate -- a measure of births per 1,000 people -- has dropped 10%.
Historically, declines in birth rates have gone hand in hand with economic downturns. During the financial slumps of the early 1990's and 1970's, the birth rates fell 15% and 18%, respectively. In the midst of the Great Depression, the birth rate was down by 17%.
Meanwhile, the cost of raising a child has risen steadily since the U.S. Department of Agriculture began tracking the data in 1960. From buying car seats and strollers to paying for childcare and schooling, a middle-income family could spend an average of $226,920 to raise a child born in 2010 to age 18 (and that doesn't include overwhelming cost of college), according to the USDA.
The escalating cost, coupled with the most recent economic downturn, has caused many women to postpone or even forgo their plans to have children, said Steven Martin, a senior research associate for the Institute of Human Development and Social Change at New York University. "Certainly economic calamity does cause a significant decline in fertility," he said.
In fact, nearly half, or 43%, of women said they would wait to start or expand their family until they felt financially stable, according to a recent survey by BabyCenter.com, an online parenting resource.
"Anyone who has wanted to have a child is concerned about whether they can afford it but the economy has really exacerbated that," said Linda Murray, BabyCenter's editor in chief.
Cary Garcia, 25 says the economy is the "biggest obstacle" to her hopes of having a child. "I'd like to have just one," she said. But Garcia and her boyfriend, Matthew, live in Las Vegas, where the metropolitan unemployment rate is 13.8% -- the second highest in the country -- and they are constantly concerned about their jobs.
"Though we could afford it now, there is no guarantee that we would be employed and financially stable by the time our children are born, not to mention when they turn into teenagers and need tuition money," she said.
If local conditions don't improve, Garcia says they will likely have to relocate to an area of the country with better job security before they start a family.
According to data from the Pew Research Center, states with the biggest per capita income declines during the recession -- including Florida, Arizona and Michigan -- were also those with the fewest number of births in recent years. Alternatively, North Dakota and Hawaii notched higher birth rates and fared much better in terms of income growth in that time.
After the recession wreaked havoc on her finances, Leigh Fountain, 34, also had to put her baby plans on hold. She and her husband John got married and bought their first home in Playa Del Rey Calif. in 2007 with plans to start a family. "We certainly thought that would be an ideal place to raise children," she said.
But within two years they both lost their jobs and had to short-sell the home they could suddenly no longer afford. Now, back at work but in a much smaller rental apartment, Fountain says "we're still not stable enough financially to have a child."
"If we can amass a savings and feel stable then we will move forward, but we don't know if that will happen," Fountain admits. "And the possibility of a double-dip recession doesn't bode well for our plans."
Diapers alone can cost $1,500 in the first year, said Katherine Snider, executive director of Baby Buggy, a nonprofit organization aimed at providing necessities to families in need.
"It's scary to think of the economics of it," she said.
Because of the steep cost, not only are some women putting off starting a family but others are also choosing to have fewer children. Two-thirds of the 1,305 women surveyed by BabyCenter said that money will affect how many children they have.
Since 2007, the rate of women of childbearing age who had three or more children also fell 5%, according to the National Center for Health Statistics.
As to whether the current economic turmoil will cause an anti-baby boom, "we may be there already," Murray said.