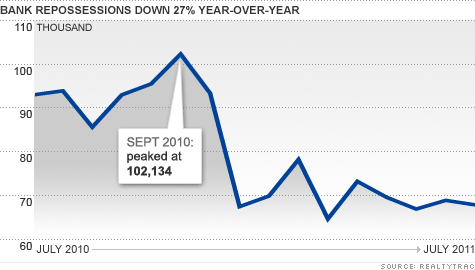 NEW YORK (CNNMoney) -- Foreclosure filings dropped once again in July, hitting their lowest level since November 2007, as processing delays and foreclosure prevention measures enabled a larger number of delinquent borrowers to remain in their homes.
Filings were down 4% compared to June and were 35% lower than July 2010, marking the tenth straight month of year-over-year declines, according to RealtyTrac, a leading online marketer of foreclosed properties.
RealtyTrac reported that 212,764 U.S. homes received some kind of foreclosure filing -- notice of default, notice of auction sale or completed foreclosure -- during the month. Bank repossessions totaled 67,829, down 33.6% from the peak month of September, 2010 -- when banks took back 102,134 homes, and off 27% from 12 months earlier.
The steep foreclosure drop, according to RealtyTrac CEO James Saccacio, was triggered by a foreclosure processing slowdown that was sparked by the "robo-signing" controversy last fall. As a result of the scandal, in which the banks were accused of mishandling paperwork and failing to follow proper protocols, banks are being much more careful and many filings have been delayed.
"[T]he downward trend in foreclosure activity has now taken on a life of its own," said Saccacio. "It appears that processing delays, combined with the smorgasbord of national and state-level foreclosure prevention efforts, may be allowing more distressed homeowners to stave off foreclosure."
There were some small glimmers of hope in RealtyTrac's report. One promising sign was the steep plunge in initial notices of default, which fell 39% year-over-year to fewer than 60,000.
The decline may indicate that fewer borrowers are falling behind on payments. Or, it could mean lenders are not filing those notices as promptly as they have in the past, according to Rick Sharga, a spokesman for RealtyTrac.
The company analyzed initial default notices in California and discovered that the average sum of missed payments has risen to $78,000 from $17,000 over the past four years. Sharga attributed the jump to delays in filing the initial papers.
Getting rid of repossessed homes
RealtyTrac's release came a day after the Federal Housing Finance Agency (FHFA), the Treasury Department and the U.S. Department of Housing and Urban Development announced they were seeking suggestions on how to dispose of the 92,000 repossessed homes now owned by Fannie Mae, Freddie Mac and the Federal Housing Administration (FHA).
FHFA, the agency that supervises Fannie/Freddie, and HUD, which oversees FHA loans, want to be able to reduce that inventory quickly and in a manner that helps stabilize communities that have been hard hit by foreclosures.
They're seeking proposals from private enterprises, municipalities and non-profits that will result in bulk sales and result in their refurbishment and eventual resale or rental.
Hardest hit markets
Among the markets where these efforts may be most concentrated are those hardest hit by the foreclosure crisis. According to RealtyTrac's report, Las Vegas continued to record the highest rate of foreclosures in the nation, with a filing for every 99 homes, but the gap between "Sin City" and other metro areas has shrunk.
Foreclosure filings in Stockton, Calif. jumped 57% month-over-month, one for every 124 homes, the second highest rate.
Nevada continued to post the highest foreclosure rate of any state, one filing for every 115 homes. California, one in every 239 homes came in second place, and Arizona, one in every 273 homes, was third.
Has all of the market turmoil prompted you to move all of your retirement investments into cash? If so, we'd like to hear from you. If you'd like to share your story with CNNMoney, email blake.ellis@cnnmoney.com.