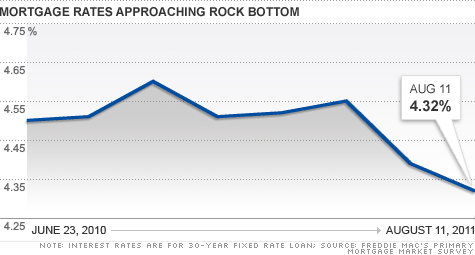 NEW YORK (CNNMoney) -- Just when it seemed mortgage rates weren't going to get any lower, they started testing new lows.
In the tumultuous days following Standard & Poor's debt downgrades, rates on 30-year fixed mortgages fell to 4.32%, down from 4.39% last week and closed in on a record low of 4.17% set last November, according to Freddie Mac's Primary Mortgage Market Survey.
Rates on 15-year fixed mortgages set a new record for the second week in a row, falling to 3.5%, down from 3.54% last week.
"It's a crazy time," said Doug Lebda, the CEO of online lending exchange LendingTree. "I'd say rates can't get much lower, but I was saying that last week, too."
The savings for borrowers who lock in rock-bottom rates over the length of a mortgage loan can be sizable. Take, for example, a borrower with a $200,000, 30-year loan. If their mortgage carries a 4.32% rate their monthly payment is just $992 and they make total interest payments of $157,153. However, if the rate on their 30-year fixed mortgage is 5% (ordinarily considered a low rate), they'd pay $1,074 a month and $29,357 more in interest over the 30-year period.
The low rates are sparking a rash of refinancing activity, according to the Mortgage Bankers Association. Last week, total mortgage borrowing, most of it refinancings, jumped nearly 22%. This week's activity could be even higher, according to Greg McBride, chief economist for Bankrate.com.
"Rates have been below 5.5% for two years," he said. "For most people who have refinanced or purchased since then, there's little benefit to refinancing. But when rates drop below 4.5%, then it's worth looking into."
Rates could go even lower
Rates could drop even lower, according to Keith Gumbinger of HSH Associates, a provider of loan information.
"Low Treasury interest rates are still not being fully passed through to mortgage borrowers," he said.
While mortgage rates do not move in lockstep with Treasury yields, they are closely correlated. The yield on the 10-year bond plunged to 2.24% Thursday from 2.56% at the end of last week.
The difference between the 30-year fixed mortgage rate and the 10-year Treasury yield is usually about 1.6 to 1.7 percentage points, so a bond rate of 2.24% should mean that mortgage rates should be at 3.84% to 3.94%.
"That argues that mortgage rates could go lower," said Gumbinger. "Will the spread shrink again, though? That's hard to say."
One reason to question a further drop: S&P's downgrade of the credit ratings of Fannie Mae and Freddie Mac. The downgrade could make borrowing more expensive for the two mortgage giants, which represent, along with FHA loans, close to 90% of mortgage lending these days. And those costs may get passed along to borrowers.
Another factor is that investors in mortgage securities backed by Fannie/Freddie may stop buying mortgages if the yields fall much further. The low rates would provide too puny a return.
Investors may also balk, according to Gumbinger, because the attractive rates give borrowers less incentive to prepay their mortgages. That means investors would get stuck with a low rate of return on their investment for a long time.
To compensate for that risk, according to Gumbinger, investors may demand greater yields and keep mortgage rates a little higher, even though they are already very low indeed.