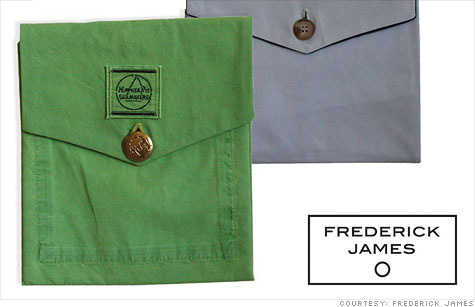 Crime pays: Frederick James' iPad covers made from Madoff's old clothes are selling like crazy.
NEW YORK (CNNMoney) -- If you've ever dreamed of turning the tables and taking Bernie Madoff to the cleaners, here's your chance. John Vaccaro, a New York entrepreneur, is selling iPad covers made from the disgraced financier's tailored clothes.
Madoff was sentenced to 150 years in prison in June, 2009 for swindling billions of dollars from clients in what has been called the largest Ponzi scheme in U.S. history.
Last November, his clothes and personal possessions were sold at auction sponsored by the U.S. Marshals Service with proceeds going to help those who lost money from his scheme.
One of the bidders at the auction was Vaccaro, 41, who had just launched a new company, frederickjames.com selling eco-friendly customized iPad covers made from cashmere and other fine fabrics. Vaccaro first conceived the idea for his unique covers after purchasing an iPad and searching for a cover that would prove to be both scratch-resistant and fashionable.
"There was nothing on the market at the time," said Vaccaro. "When a friend came over one day and left their cashmere sweater lying next to my iPad, I realized that material would make a perfect cover."
Vaccaro sought the advice of his friend, fashion designer Stephanie Doucette to learn how to transform vintage fabrics and remnants into iPad covers. When he saw an ad for cashmere sweaters being sold at the Madoff auction, he decided he could expand his line while helping Madoff victims.
At the auction, Vaccaro bought Madoff's cashmere sweaters, as well as 16 pairs of designer pants, and hired a designer to turn the clothing into iPad covers. Vaccaro immediately sold five iPad covers made from Madoff's former cashmere sweaters to a Wall Street attorney who gave them out as Christmas gifts.
"For some people in the finance world, these covers, made from Madoff castoffs, represent bragging rights," said Vaccaro. "For others, it's a chance to own a piece of history."
Now Vaccaro is focusing on selling one-of-a-kind iPad covers made from Madoff's Banana Republic chinos and Murphy & Nye sailcloth pants for between $250 and $500, while providing buyers with a certificate of authenticity, and a receipt from the auction.
He estimates that he has enough fabric to sell a limited collection of 31 Madoff-themed covers. Once he breaks even with his auction purchase, he hopes to donate a portion of the proceeds to Madoff victims.
After the Madoff collection is sold, Vaccaro plans to continue focusing on selling other customized lightweight protective iPad covers made from rescued and remnant luxury fabrics. Some of his current collections include "The Lodge," inspired by hunting and skiing material, "The Office" made from wool and silk and featuring classic pinstripes, and "The Island" using rayon and polyester crepe fabrics lined with double-knit wool.
As he builds his Frederick James brand, Vaccaro continues to oversee his web design and development company, juicyorange.com that he co-owns with designer Mark Robohm. While he would consider purchasing clothes from other famous or infamous people, he concedes it would have to be a good match.
"If I were to buy some of Marilyn Monroe's former clothing and turn it into iPad covers, it would only serve to devalue the items," Vaccaro said. "In the case of Bernie Madoff, people were pleased to see his designer clothing cut up in shreds."