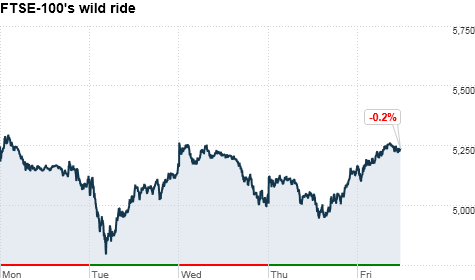 Click chart to track world markets
NEW YORK (CNNMoney) -- Regulators imposed a temporary short-selling ban in four European nations, effective Friday, in order to tame the wild market volatility that has taken markets throughout the world on a roller coaster ride.
The European Securities and Markets Authority, which is the European version of the Securities and Exchange Commission, said France, Italy, Spain and Belgium have all "decided to impose or extend existing short-selling bans in their respective countries."
"They have done so either to restrict the benefits that can be achieved from spreading false rumors or to achieve a regulatory level playing field, given the close interlinkage between some EU markets," the authority said in a statement.
Short selling occurs when brokers borrow shares and sell them with an expectation of making money on the shares' decline in value. France and Spain announced that their short-selling bans will last for 15 days, and could be extended, if deemed necessary.
Jean-Paul Servais, chairman of the Financial Services and Markets Authority, which modifies the rules of short selling, said the ban was imposed "in the light of the high level of volatility that financial markets are currently seeing, and out of a concern for consistency with the actions of other regulators" in Europe.
European markets have been on a wild ride this week, experiencing some of the most extreme volatility seen in years. Paris' CAC-40 (CAC40) dropped 3.6% on Monday, edged up less than 1% on Tuesday, plunged 5% on Wednesday, rose 2% on Thursday, and was up more than 2% Friday morning.
The other major bourses, in London (UKX) and Frankfurt (DAX), have been on a similar roller coaster, with heavy declines on Monday and Wednesday but significant gains on Tuesday, Thursday and Friday.
Wall Street has show the same nausea-inducing tendency towards highs and lows. The Dow Jones industrial average surged 423 points, or 4%, on Thursday. But that was preceded by a 4.6% decline on Wednesday, a 4% rally on Tuesday and a 5.5% plummet on Monday.
The volatility has been blamed on Standard & Poor's downgrade of the U.S. last week, which has called into question the rating strength of other prominent nations, such as France and the United Kingdom.
The Alternative Investment Management Association, an association of hedge funds, slammed the ban as ineffective and emphasized that short selling is a "legitimate market practice."
"We do not think these bans will help the current market situation," said Andrew Baker, chief executive of the association, in a statement. "Past experience has shown that bans on short selling do not prevent market falls and indeed can exacerbate volatility."