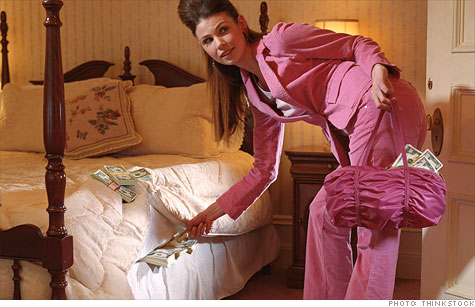 NEW YORK (CNNMoney) -- As millions of Americans continue to lose their savings in the stock market, others are stashing their money where they know they won't lose it.
The magazine of a gun. A box of tampons. The belly of a teddy bear.
Kerrie Hopkins gave her cash-hoarding aunt a "lettuce safe" -- a faux head of lettuce with a secret compartment.
"No one would ever suspect it's anything but a perennially ripe leafy vegetable," Hopkins told CNNMoney.
But when Hopkins' aunt saw an ad for the same lettuce safe in a magazine, she promptly threw it out, sure that her cover had been blown if her home was ever burglarized.
Another woman, Kate McDonald, is keeping her cash safe in an envelope. Each time she adds money to it, she folds the envelope over, then wraps it in aluminum foil and places it in the freezer. "It gives new meaning to 'cold cash,'" she said.
With the stock market plunging more than 10% over the past month, many people are stocking up on tangible assets like cash and gold. But of course they need a safe place to put it.
Earlier this week, personal finance site Mint.com asked its users to name the most unusual places they're hiding their cash.
Answers ranged from an iPhone case, the back of a boom box, a box of Animal Crackers to an unused purse. There was also a door frame and a box of waffles.
For sure, America's cash hoarders have moved beyond the traditional safe haven -- their mattresses.
One person is hiding money inside the wood panels of a bed frame, while someone else has cash hidden in rolled up nylons in the back of a drawer.
"We actually mounted a smoke detector on the kitchen ceiling that we removed all the guts from," said another cash hoarder. "Perfect spot for a cash stash. It was easily accessible from the step stool we kept in there. I don't think a burglar would be checking the smoke detectors."
Others joked that the best place they have hidden their money is the stock market.
"It's such a good hiding place that even I can't find it anymore," one quipped.
Ba-dum-cha!
Retirement plans and 401(k)s were also on the list. And some people said they wished they had any money to hide.
Ouch.
Of course, hiding cash around your house can be risky, said David Hefty, president of financial planning firm Hefty Wealth Partners. Not only do you risk getting it stolen, but you get no financial benefit -- whereas a savings account could at least earn a little interest.
"This is the typical fight or flight mammal response," Hefty said. "These people are very fearful and have a large distrust with our financial system right now."
So they may need to work with someone to overcome their financial phobias and develop a real strategy for saving their money, he said.
"What we're seeing here is people with strong short-term memories," said Hefty. "Those who need to hide cash have what we call 'financial paralysis.' They are seeing signs of another recession."