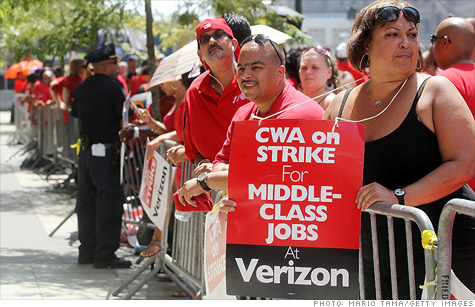 The CWA strike against Verizon is the largest U.S. labor strike in four years.
NEW YORK (CNNMoney) -- The rift between Verizon and its 45,000 striking employees grew wider on Friday, after the telecommunications giant called in the FBI to investigate allegations of sabotage.
Verizon spokesman Rich Young said more than 90 acts of sabotage have taken place since the strike began on Sunday. Saboteurs have cut phone lines, affecting the service of several thousand customers primarily in New York and New Jersey but also in Massachusetts, Pennsylvania, and Delaware.
Acts of sabotage are hardly uncommon in contentious labor strifes, but Young said that these acts "cross the line." A police station and a hospital were among those that lost service as a result of the sabotage, he said.
Federal Bureau of Investigation Special Agent Bryan Travers confirmed that an inquiry is under way and is being handled out of the FBI's Newark, N.J., field office.
"Because critical infrastructure has been affected, namely the telecommunications of both a hospital and a police department, the FBI is looking into this matter from a security standpoint," Travers said in an e-mail.
The strikers' union, the Communications Workers of America, condemned the acts.
"CWA does not condone illegal action of any kind, and instructs its members to conduct all strike activities in accordance with labor law," the union said in a prepared statement.
The merry-go-round of accusations didn't end there.
CWA spokeswoman Candice Johnson accused Verizon replacement workers and managers of driving vehicles into picketing crowds, striking more than a dozen pickets.
Verizon's Young accused the strikers of throwing themselves in front of vehicles, which Johnson called "ridiculous."
Johnson also noted that, in the past, employers have been known to order replacement workers to commit acts of sabotage on their own infrastructure to frame strikers and curry favor with the public.
The sabotage, federal investigation and finger-pointing add another layer of mistrust between two sides that were already far apart on negotiations for a new labor agreement.
Verizon is hoping to gain steep concessions from its unionized employees, the vast majority of whom work in its wireline business, which includes traditional landline and FiOS broadband and television services. Though the company has recorded $3 billion in profit so far this year, the wireline market is contributing little to those earnings. The unit has posted a 1.2% decline in sales this year, due to customers shedding landlines for wireless.
Verizon has been buoyed by its mobile business, Verizon Wireless, which it co-owns with European telecom giant Vodafone (VOD). Verizon Wireless has posted a sales increase of 10% so far this year.
Citing increasing competitive pressure and a sputtering economic recovery, Verizon is hoping its wireline employees will agree to eliminate two paid holidays, freeze pensions, align raises with job performance and get the union to contribute $100 per employee, per month, towards healthcare premiums.
The CWA maintains that a wildly profitable company should not demand such harsh givebacks. The union pointed out that Verizon's top five executives got compensation of $258 million over the past four year.
The strike, which began on Sunday, is the largest U.S. strike since 73,000 General Motors (GM, Fortune 500) picketed in September 2007. That strike lasted for just two days. The Verizon strike has already lasted six days and shows no signs of letting up.
Strikes of this nature have been known to last months. When similiar concessions were demanded by Boeing (BA, Fortune 500) in the fall of 2008, about 25,000 Boeing employees went through a 57-day strike organized by the International Association of Machinists.
The last Verizon strike was in 2000, when CWA workers went on strike for 18 days.
-- CNN's New York Bureau contributed reporting to this story