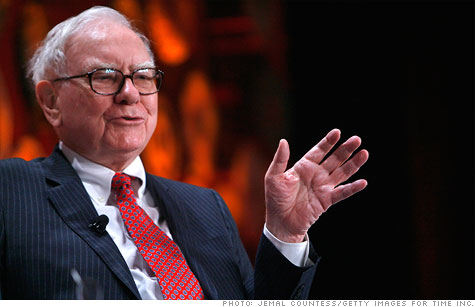 NEW YORK (CNNMoney) -- If you want to invest like Warren Buffett, start by adding Dollar General to your portfolio and offloading shares of Kraft.
Nebraska-based Berkshire Hathaway, chaired by Buffett, took a big chance on Dollar General (DG, Fortune 500) in the second quarter. The investing legend added a $50.8 million stake -- or 1.5 million shares -- in the discount retail chain to its portfolio, according to a regulatory filing released Monday after trading ended for the day.
But he apparently didn't have such high expectations for Kraft's future performance. Buffett got rid of nearly 6 million shares of the food giant during the same period, during which Kraft (KFT, Fortune 500) split into two separate parts. However, he still held 151.6 million shares of Kraft, as of June 30.
Insurance data firm Verisk Analytics (VRSK) was a new name on his list of stock picks, with 2.1 million shares purchased in the second quarter. Shares of Verisk soared nearly 5% Monday.
Buffett boosted his stake in several financial companies in the quarter. He stocked up on 189,000 more shares of MasterCard (MA, Fortune 500), putting his company's total stake in the card issuer at 405,000 shares -- nearly double the amount it held in the previous quarter.
He also increased the number of Wells Fargo (WFC, Fortune 500) shares in his portfolio by 9.7 million, to a total of 352 million -- making the multi-billion-dollar stake one of the fund's largest.
Soon after the second quarter ended on June 30, Wells Fargo got slapped with the Federal Reserve's biggest-ever consumer protection fine. The Fed fined the financial giant $85 million in July for fraud, deceptive claims and unsafe banking practices in its mortgage lending practices between 2004 and 2008.
All of the changes Buffett made to his portfolio took place before the market's recent volatility, which has been punctuated by 500-point swings in both directions in the Dow Jones index over the past two weeks.