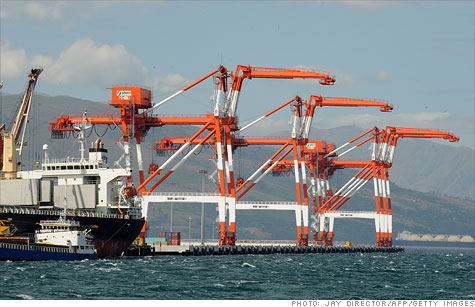 NEW YORK (CNNMoney) -- Amid all the squabbling in Washington, there is one policy many Democrats and Republicans agree on -- free trade deals with South Korea, Colombia and Panama.
But there is still fierce debate on whether the deals will create U.S. jobs or take them away from American workers.
On one side is big business, that believes opening up trade with other countries will boost sales for U.S. firms, allowing them to hire more workers. But unions argue the deals will mean more low-wage competition for U.S. workers, and more factories being moved overseas.
Though the deals have already been negotiated and have significant bipartisan support, they've been stuck in limbo for several years as Congress stalled on other issues. But lawmakers are now likely to pass the deals soon after they return from summer recess next month.
The agreements will greatly lower trade barriers on U.S. exports to all three countries.

Create jobs: Advocates of the deals, led by the U.S. Chamber of Commerce, argue that they could create hundreds of thousands of jobs.
One government analysis estimates 280,000 jobs coming in from the Korean deal alone. Other official estimates say there will be negligible impact on jobs from deals with Colombia and Panama.
John Murphy, vice president of international policy for the Chamber, argues those government estimates grossly underestimate the amount of U.S. exports and jobs that can be created from free trade deals.
"What we've seen in Latin America is that trade deals have made big markets out of small countries," he said.
What's more, the Chamber's own study estimates that nearly 400,000 U.S. jobs will be lost soon if the deals aren't passed, as new free trade deals between the European Union and South Korea, and Canada and Colombia, will give European and Canadian companies a competitive edge over U.S. firms doing business there.
"Canadian Prime Minister Stephen Harper was in Colombia on a victory lap touting the advantages of the deal," Murphy said.
He said European exports to South Korea shot up 16% since its trade deal went into effect July 1, while U.S. market share has fallen there. "They have a trade surplus with South Korea for first time in a decade," he said.
Kill jobs: Critics argue the government's job estimates don't properly account for the jobs that will be lost by increased competition from imports and factories moving overseas.

The AFL-CIO has vowed to fight the trade deals, despite the support they have from the administration and some of their Democratic allies in Congress.
Robert Scott, international economist for the Economic Policy Institute, estimates that the trade deals taken together will result in a loss of 214,000 jobs.
While he believes there will be 478,000 export related jobs created in the United States by the deals, he argues the increased exports to the United States from the countries will cost nearly 700,000 jobs.
"All we hear is about the export jobs being created," he said. "The problem is they count the home team's score and leave off the visitors' score."
Scott said that the deals will provide greater assurance for foreign investment in Panama and Colombia, which will encourage more offshoring of jobs to those low-wage markets.
"The results of other trade agreements have shown these deals tend to result in growing trade deficits with these countries," he said. "These are 2,000-page agreements that make countries like Colombia much more attractive places to invest."