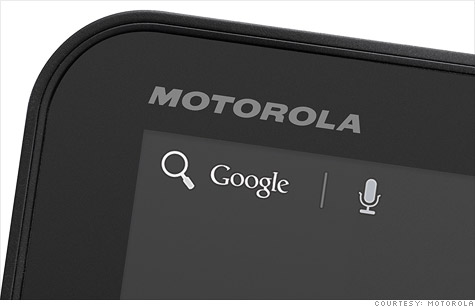 Google has signed a deal to buy Motorola Mobility for $12.5 billion.
NEW YORK (CNNMoney) -- In a surprise deal that would be its largest acquisition ever, Google has agreed to buy Motorola Mobility for $12.5 billion, the two companies said Monday.
Google, the world's search leader, said it believes the mobile device maker will help it gain an even stronger foothold in the mobile marketplace. Google licenses Android, the popular mobile operating system, which competes with Apple's (AAPL, Fortune 500) iPhone and iPad, Research In Motion's (RIMM) BlackBerry and Microsoft's (MSFT, Fortune 500) Windows Phone among others. (Investors are already betting that RIM may be the next to get bought.)
But Google also said it wants to buy Motorola Mobility to defend against patent lawsuits levied by its competitors.
Motorola Mobility has been in the communications business for more than 80 years, and it invented the cell phone 30 years ago -- back when it was still just called "Motorola." Earlier this year, Motorola's consumer products business split from its public safety business, Motorola Solutions (MSI, Fortune 500).
Motorola Mobility, the part of the business most consumers are familiar with, held on to the 17,000 patents the company has been issued worldwide. It also has 7,500 patents pending approval.
As Android has grown to become the world's most used smartphone operating system, Google has faced an increasing number of patent lawsuits, most recently from Microsoft and Apple.
"We've been saying for some time that we intend to protect the Android ecosystem," David Drummond, chief counsel for Google, said Monday on a conference call with analysts. "We think that having this kind of patent portfolio to protect the ecosystem is a good thing."
Google recently tried to buy a portfolio of key telecommunications patents from bankrupt Nortel for $1 billion. But the winning bid -- of a whopping $4.5 billion -- was submitted by Google's rivals, including Microsoft and Apple.
Acquiring patents is often used as a defense tactic to stave off lawsuits from competitors. Whether the claims are legitimate or not, rivals often sue one another for patent violations to scare away potential partners or take some of the revenue off the top of their competitors' sales. America's patent system is so complex that such claims can take years -- and cost millions -- to litigate.
In one recent settlement deal, for instance, Apple agreed to pay Nokia (NOK) royalties for patents that Nokia claimed the iPhone had infringed. The deal ended nearly two years of legal wrangling between the companies.
Google is also mired in a patent battle royale with Oracle, which claims that Google's Android infringes some of the Java patents Oracle holds.
On the call with analysts, Google CEO Larry Page acknowledged that Motorola is outside the search giant's core competency. Google plans to run it as a separate company. Motorola will continue to license Android from Google and pay Google for the core applications that come with the operating system.
In fact, Motorola will be so separate from Google that it will have to bid to become the maker of the Nexus device, the flagship Android smartphone that comes out annually during the winter holiday season. Google receives bids and proposals from various handset manufacturers to make the device, and the company said Motorola will not automatically win the rights to make the next Nexus phone.
Analysts expressed concern that buying Motorola Mobility will anger Google's other handset manufacturing partners.
But several of those partners spoke out in defense of the move, mostly citing the patent war as the reason for their support. Many of those handset makers, including Motorola, have been sued for patent infringement after debuting their Android devices.
"We welcome today's news, which demonstrates Google's deep commitment to defending Android, its partners, and the ecosystem," said J.K. Shin, president of Samsung's mobile division.
Google is paying $40 a share for Motorola Mobility Holdings (MMI), a premium of 63% over the closing price on Friday. The $12.5 billion price tag -- all cash -- is by far the largest that Google ever paid for an acquisition.
The deal is subject to regulatory approval, which Google said it expects to pass. Google has come under heavy scrutiny lately in both the U.S. and Europe from regulators concerned about its growing industry dominance, especially in the search field. The Motorola bid would expand Google into a wholly new market area -- one in which it doesn't currently compete.
Google's (GOOG, Fortune 500) stock fell about 1% in early trading while Motorola's rose 57%.
Motorola has struggled in recent quarters, citing delays in getting some of its key products, like the eagerly anticipated Droid Bionic, onto store shelves. Other promising devices have failed to meet expectations, like the smartphone-that-becomes-a-laptop Atrix 4G.
Last quarter, Motorola lost $56 million and disappointed Wall Street analysts by saying results for its current quarter would be weaker than expected.
Its tablet business has also been far less profitable and successful than it expected. Motorola sold just 440,000 Xoom tablets in the quarter. The Xoom, which was the first of Google's first Android Honeycomb tablet, was expected by many analysts to be the first true test for the iPad. It hasn't been: Apple sold 9.25 million iPads last quarter.
But Google's Page said he is excited about the growth opportunity that the deal presents.
"We believe Motorola Mobility is poised for tremendous growth," he said. "The deal allows us to supercharge the whole Android system. There's tremendous opportunity here."
Page also mentioned that Google is intrigued by Motorola's set-top box business. Though Motorola's cable box unit is stumbling, the link-up with Google's also not-ready-for-primetime Google TV business could help jump-start both.