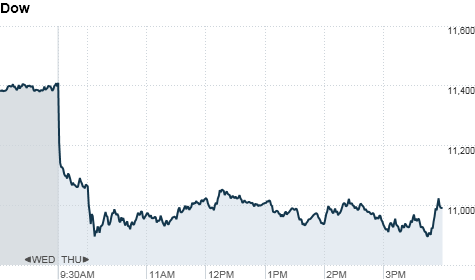 Click the chart for more market data.
NEW YORK (CNNMoney) -- Wall Street got socked on Thursday as renewed concerns about the U.S. and global economies sent major indexes plunging and pushed gold to a new high and bond yields to a record low.
Stocks were hit with bad news on multiple fronts. Morgan Stanley put out a dismal forecast for global economic growth. A key reading on U.S. housing came in worse than expected. And a report showed a significant slowdown in the domestic manufacturing sector.
Investors rushed to move their money into safe U.S. government bonds -- and the yield on the benchmark 10-year Treasury briefly fell below 2%.
"We had a couple days to stabilize and breathe, but you forget that it's a war zone out there and there's just too much uncertainty about the economy," said Frank Davis, director of sales and trading at LEK Securities.
The Dow Jones industrial average (INDU) dropped 420 points, or 3.7%, to close at 10,991. The blue chips fell as much as 528 points.
The S&P 500 (SPX) lost 53 points, or 4.5%, to 1,141; and the Nasdaq Composite (COMP) lost 131 points, or 5.2%, to 2,380.
At the center of Thursday's sell-off were renewed macroeconomic fears about a possibly slowing global economy.
In a gloomy report from Morgan Stanley, the investment bank slashed its global growth outlook for 2011 and 2012, adding that the U.S. and Europe are "hovering dangerously close to a recession."
"The fact that Morgan Stanley has downgraded its global growth forecast really highlights the concerns and problems facing the global economy," said Michael Hewson, market analyst at CMC Markets in London. "It begs investors to question where future growth will come from."
Morgan Stanley's dire commentary was combined with four disappointing U.S. economic reports out Thursday, with investors putting a great deal of weight on the Philadelphia Federal Reserve's regional manufacturing index.
The closely watched index dropped to a reading of minus 30.7 in July, which indicates severe contraction in economic activity during the prior month. The number was far worse than expected, with economists looking for a reading of plus 0.5.
It was the worst figure for the Philly Fed since March 2009 -- when the U.S. economy was still in recession.
"The Philly Fed data was the punch in the stomach that bent this market over," Davis said.
Investors moved into traditional safe havens of U.S.-backed bonds and into gold. The price on the 10-year Treasury jumped, pushing the yield to a record low of 1.99% from 2.16% late Wednesday.
David Levy, portfolio manager with Kenjol Capital Management, call it a "panic move" into U.S. Treasuries.
Gold futures for December delivery rose $28.20 to settle at $1,822 an ounce, a new closing high (not adjusted for inflation) for the precious metal.
The VIX (VIX) -- Wall Street's so-called "fear gauge" -- jumped 35% on Thursday to a reading of 42.7. Anything above 30 is considered high fear in the market.
In other economic data, the Labor Department reported that weekly jobless claims rose by a worse-than-expected 9,000 claims to 408,000 in the week ended Aug. 13.
The National Association of Realtors said existing home sales dropped by 3.5% in July, far worse than the 2% rise that the market was looking for.
To further complicate things, the government also reported that Americans paid more for consumer goods and services in July, as inflation rose more than expected over the month.
The consumer price index, increased 0.5% in the month -- led by a 4.7% jump in gas prices from month to month. Economists expected a 0.2% rise in July, according to a survey from Briefing.com.
On Wednesday, U.S. stocks ended mixed as investors weighed the latest corporate results against global economic and debt concerns.
World markets: European stocks plunged sharply. Britain's FTSE (FTSE) 100 fell 4.9%, the DAX (DAX) in Germany sank 6.5% and France's CAC (CAC) 40 tumbled 5.3%.
"I think we're seeing a bit of a delayed reaction to the Sarkozy and Merkel meeting earlier this week, as investors realize that policymakers are out of ideas," CMC Markets' Hewson said, noting that an unnamed bank tapped the European Central Bank's emergency liquidity fund for $500 million overnight.
Asian markets ended in the red. The Shanghai Composite fell 1.6%, the Hang Seng in Hong Kong dropped 1.3% and Japan's Nikkei shed 1.3%.
Companies: Shares of Dow component Hewlett-Packard (HPQ, Fortune 500) dropped 8% after the company cut its full-year outlook and said it was looking to spin off its PC business. The company also said would purchase British software company Autonomy for $10.2 billion in cash.
The tech giant also reported its quarterly results, posting an adjusted profit of $1.10 a share versus the $1.09 that analysts had expected.
Shares of McGraw Hill (MHP, Fortune 500) dropped 6% after a New York Times report said the Justice Department was investigating rating agency Standard & Poor's, a subsidiary, for allegedly overrating mortgage-backed securities. The mortgage securities meltdown led to the 2008 financial crisis.
The stock price for Sears Holdings (SHLD, Fortune 500) fell more than 8% after the retailer reported a disappointing quarterly loss of $1.13 per share.
Currencies and commodities: The greenback gained strength against the euro, Japanese yen and the British pound.
Oil for September delivery fell $5.20, or 6%, to $82.38 a barrel.