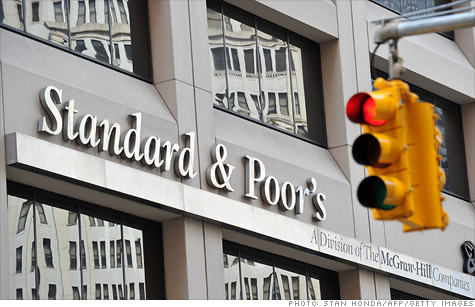 The Justice Department is reportedly investigating Standard & Poor's for allegedly overrating mortgage-backed securities ahead of the 2008 market meltdown.
NEW YORK (CNNMoney) -- Ratings agency Standard & Poor's is being investigated by the U.S. Justice Department for allegedly overrating mortgage-backed securities, whose meltdown led to the 2008 financial crisis, according to two sources with knowledge of the investigation.
The sources confirmed to CNN that Justice Department attorneys interviewed current and former S&P credit analysts earlier this year.
The Justice Department declined to comment to CNN regarding the reported investigation.
S&P did not specifically confirm that it was under investigation.
"S&P has received several requests from different government agencies over the last few years regarding U.S. mortgage-related securities," said S&P spokesman Ed Sweeney. "We have cooperated and will continue to cooperate with these requests."
The probe came to light after The New York Times said the government was looking into whether analysts for S&P, a unit of McGraw Hill Co., (MHP, Fortune 500) wanted to give lower ratings to the mortgage securities, but were overruled by business managers. S&P, like other ratings agencies, collects fees from issuers for rating securities.
The report also said the Securities and Exchange Commission is also investigating S&P, and might be looking into rating agencies Moody's Corp. (MCO) and Fitch Ratings, concerning mortgage securities.
SEC officials would neither confirm or deny any investigation. But a spokesman, in an e-mail message to CNN, said: "Cases arising from the financial crisis are among the highest priorities of the Enforcement Division."
Fitch Ratings spokesman Sandro Scenga said his rating agency is not being investigated by federal authorities.
"To our knowledge, we are not a subject of the inquiry referred to in the press this morning, nor have we had contact with the Justice Department concerning the investigation," said Scenga.
Moody's did not immediately return calls for comment.
Concerns that ratings agencies overrated mortgage securities have been voiced ever since the financial crisis. But the situation has been complicated politically by the fact that the report comes nearly two weeks after S&P downgraded the credit rating of U.S. debt, stripping the world's largest economy of its prized AAA status.
However, the sources told CNN that the interviews with S&P credit analysts happened months before the rating agency's U.S. downgrade.
The downgrade followed congressional squabbling over raising the debt ceiling, and the ratings agency highlight the lack of a "credible" plan to tackle long-term debt.
In May, the Justice Department sued Deutsche Bank (DB) for $1 billion, claiming that its MortgageIT unit made tens of thousands of bad loans and then duped the Federal Housing Authority into insuring them. The scheme left taxpayers with the hundreds of millions of dollars in sketchy loans, according to the government.