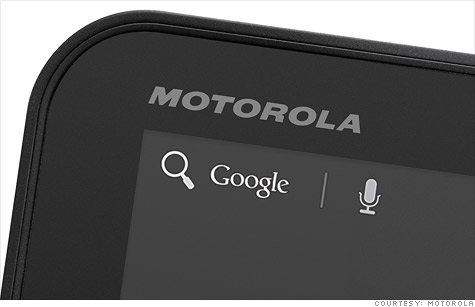 NEW YORK (CNNMoney) -- In a sign that the Google-Motorola deal could face heavy antitrust scrutiny, Google included an unusually high breakup fee in its deal terms, according to a document filed to the Securities and Exchange Commission on Thursday.
In the filing, Google (GOOG, Fortune 500) says it will pay Motorola Mobility (MMI) $2.5 billion if the deal does not get approved by antitrust regulators. That's 20% of the $12.5 billion purchase price.
Analysts say breakup fees are typically a much smaller fraction of that amount.
Google's fee was even higher on a percentage basis than the eye-popping $3 billion that AT&T (T, Fortune 500) said it would pay T-Mobile if its deal did not pass regulatory scrutiny.
The filing also revealed a termination fee of $375 million that Motorola will have to pay to Google if it accepts a better buy-out offer from a competitor. That's a standard term in deals of this kind.
Google has found itself in the antitrust crosshairs of regulators from around the world.
The Federal Trade Commission formally notified Google in June that it is investigating the company. The company faces similar scrutiny in an ongoing antitrust investigation by the European Commission.
Those probes were not particularly surprising. This year alone, a federal judge rejected Google's settlement to create a universal online book library, the Department of Justice heavily scrutinized the company's purchase of flight data software company ITA, Google set aside $500 million for a potential settlement with the DOJ regarding the company's advertising practices, and the DOJ is currently studying Google's proposed $400 million purchase of digital advertising toolmaker Admeld.
Still, Motorola Mobility is not a competitor to Google's core search business, so many analysts believe regulators will ultimately approve the deal.
Codename: RB98
In addition to the breakup fees, the SEC filing contained one other fun tidbit. It mentioned three companies: Google, Motorola Mobility and "RB98," described only as a wholly owned subsidiary of Google.
RB98 is just a codename for a shell company that Google set up. All that exists in RB98 is a legal structure to complete the merger.
Why Google chose that codename is unknown, but the first Google search result for the term reveals that RB98 is also a codename for an international effort to replace short-range missiles with more agile missiles with improved abilities to prevent counterattacks.
Sounds like Google is arming for battle against those patent threats levied by Apple (AAPL, Fortune 500) and Microsoft (MSFT, Fortune 500).