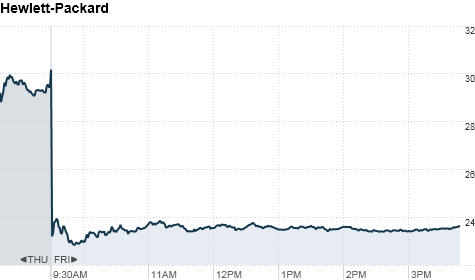 NEW YORK (CNNMoney) -- Shares of Hewlett-Packard tumbled Friday following the company's announcement that it is seeking to spin-off its PC division and will kill off the hardware line it built around Palm's webOS.
HP's (HPQ, Fortune 500) stock ended the day down $5.91, or 20%, closing at $23.60 per share. That marks the stock's lowest level since Aug. 16, 2005, mere months after Carly Fiorina was forced out as CEO. Shares even fell below the nadir they hit during the depths of the Great Recession in March 2009.
HP now trades at a puny 4.5 times its future earnings forecasts -- about a third of the average price-to-earnings ratio for the S&P 500. But Wall Street analysts' earnings forecasts had factored in PC sales, which account for roughly 1/3 of HP's business.
"Investing in HP is now a big bet on printers, non-stop servers and consulting," said Carl Howe, an analyst at Yankee Group.
The various moves HP announced Thursday are part of its stated goal of transitioning into faster-growing, more profitable businesses like software, servers and corporate technology services. HP will also hang onto its imaging and printer business, even though sales fell 1% last quarter compared to the prior year.
HP's server business is going strong and is the largest in the world. In fact, its market share is larger than the next two, Dell (DELL, Fortune 500) and IBM, combined.
But it will be a long, steep climb for HP to become a big rival to Oracle (ORCL, Fortune 500), IBM (IBM, Fortune 500) and SAP (SAP) in business software and services. Software represents just about 2% of HP's overall sales.
"They think they're a software company," Howe said. "I guess, but other than their network management software, I'm hard pressed to think about what software they're talking about."
The company also announced Thursday that it has agreed to buy British software developer Autonomy for roughly $10.2 billion in cash.
But the deal comes at a steep price: At $42.11 per share, the purchase price represents a 58% premium over the company's average share price over the past month. Autonomy, which had sales of $870 million last year, specializes in database search and other enterprise software technologies.
Curiously -- and perhaps paradoxically -- HP said it will run Autonomy as a separate company.
As a result of the transition and "challenges that we face across our businesses," HP reduced its full-year revenue forecast by 9%. It also lowered its profit forecast by 16%, though that dreadful number includes charges related to killing off its webOS products bought from Palm. Without those charges, HP still lowered its previous estimate by 4%.