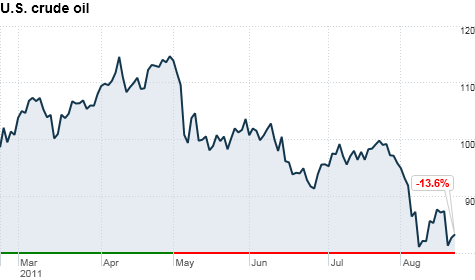 Click chart for more on oil prices.
NEW YORK (CNNMoney) -- Brent crude oil prices are easing but don't expect that to to translate into sharply lower U.S. gas prices anytime soon.
Brent oil -- Europe's benchmark -- fell 1.2% to $107.27 a barrel, as Moammar Gadhafi's regime totters on the brink of defeat. U.S. gasoline prices are closely tied to Brent, with many U.S. refineries using imported oil to produce gas, especially on the East Coast.
The decline in Brent may eventually translate into lower U.S. crude prices, but for now those prices are up 2% at $83.46 a barrel.
"I think the Gadhafi ouster has the capability of removing some upward pressure on world oil prices very short term, but his removal, and any subsequent government's effort to resume significant Libyan exports will be a story in 2012 at the earliest," said Tom Kloza, chief oil analyst for Oil Price Information Service.
Even though Brent crude prices are falling, it's unlikely that there will be a glut of oil flooding the markets anytime soon, said Dan Dicker, an oil trader for 25 years and the author of "Oil's Endless Bid: Taming the Unreliable Price of Oil to Secure Our Economy."
"I see the price coming down on Brent as more of a knee jerk reaction," said Dicker, estimating that it will take a long time for Libyan oil to flow back into the market. "You're not going to see a barrel of oil from Libya for at least a year."
Kloza expects gasoline prices to ease to $3.25 to $3.50 a gallon by the end of September but that's more of a typical seasonal easing that occurs after Labor Day rather than a Libya reaction. The current average price for a gallon of gas is $3.569, according to motorist group AAA.
The decline isn't insignificant. For every penny that gasoline prices drop, Americans have $1.4 billion more a year to spend on other things, noted David Kotok, chief investment officer of Cumberland Advisors. "That is a huge stimulant to the economy," he said
Manouchehr Takin, senior petroleum analyst at the Center for Global Energy Studies in London, said the return of Libyan production will more likely be a gradual flow.
The state of the oil infrastructure in Libya remains uncertain, he said, and there could be unforeseen factors that would interfere with the resumption of production.
For example, Takin said there was trouble bringing Iraq's oil supply back online after the U.S. invasion of 2003, because Iraqi engineers were being murdered by hardliners for cooperating with Americans.
Dicker said that Brent oil will probably recover in the next few days, once traders realize that Europe won't be flooded with fresh supply from Libya.
"[Brent] might be a tremendous buy a week from now, when it becomes clear that nothing is going to happen for a year," he said.
On Monday, shares of U.S. oil producers Exxon Mobil (XOM, Fortune 500) and Chevron Corp. (CVX, Fortune 500) gained about 1.5%. U.S. oil prices are reacting to the gradual economic recovery and moving more closely with U.S. stock futures. Shares of Royal Dutch Shell (RDSA) rose 3%, BP (BP) jumped nearly 2% and ConocoPhillips (COP, Fortune 500) was up about 1%.