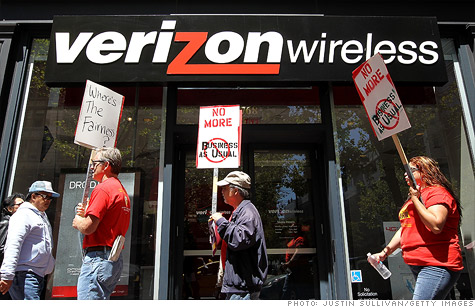 Strikers start returning to work at Verizon this week, but the strike still will be felt in the August jobs report.
NEW YORK (CNNMoney) -- About 45,000 strikers at Verizon Communications will return to work this week, but not before taking a bite out of upcoming August jobs report.
The Labor Department's monthly reading, due out on Sept. 2, will be closely watched for further signs that the economy is slowing down.
And while the Verizon (VZ, Fortune 500) strike won't drag into September, the fact that it took place during the week in which the Labor Department conducted its survey of employers will mean the August numbers are likely to portray the economy as at least somewhat weaker than it actually is.
Strikers and locked-out union members are not counted as having jobs in the Labor Department count of employees that is announced every month.
That is significant because weak payroll gains since May -- an average of only 72,000 jobs added each of the last three months -- is one of the main reasons for growing fears of a double dip recession. Those worries have helped feed the sell-off in stocks in recent weeks.
The loss of jobs by strikers would be partly offset by the fact Verizon used some replacement workers during the strike. The company would not say Monday how many were hired to help address customer service problems during the strike.
John Silvia, chief economist for Wells Fargo Securities, said the fact that the next jobs report will come on the Friday before the Labor Day weekend will only add to the selling pressures in markets if the strike causes an uglier than hoped for number. He said there could be a sell-first-and-ask-questions-later mentality on the part of investors.
"At this point I've observed a lot of pessimism coming through," he said. "You've got people instinctively seeing that the jobs picture is much more negative than we anticipated 3 to 4 months ago." He said the damage done to payrolls by the strike will only feed that fear.
The Communications Workers of America and the International Brotherhood of Electrical Workers, the two unions that represent the strikers, agreed Saturday to return to work even though a new contract agreement has yet to be reached. The strikers stood to lose their medical benefits if they had not been back at work by Aug. 31.
The hit to jobs numbers from the Verizon strike will be short-lived, as September will include a corresponding gain in jobs. But that report won't be available until Oct. 7.
During Verizon's last strike in August 2000, when about 85,000 union members walked off the job, the official count of telecommunications workers fell by 77,000 in August. It then jumped by 94,000 in September.