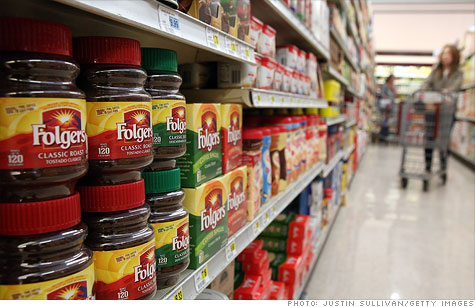 Prices on popular brands like Folgers are finally on the decline, offering java lovers some reprieve.
NEW YORK (CNNMoney) -- Like a caffeine junkie on a morning buzz, the price of coffee futures began spiraling higher in late 2010 -- and coffee brands passed those higher costs on to consumers.
The buzz has worn off, at least briefly. Coffee futures had dropped some 1.7% over the past six months, and now java lovers are enjoying price cuts on some popular brands.
Coffee futures have started rising in the past week but at a modest clip and prices are still a ways below where they were earlier this year.
The easing prices -- plus improved coffee-growing weather conditions -- is enough for coffee companies to reverse some of their past price hikes.
This week, Kraft (KFT, Fortune 500) cut the price of popular coffee brand Maxwell House by 6% -- about a 20-cent drop per pound of roast or ground coffee.
Kraft's move comes about one week after J.M. Smucker Co. (SJM, Fortune 500) cut its prices by the same amount for most of its coffee brands, including Folgers and Millstone. It also includes Dunkin' Donuts (DNKN) coffee, which Smucker is licensed to sell in stores.
That's all a far cry from mere months ago, when several coffee brands hiked prices significantly. Back in May, Smucker increased prices by an average of 11% for most of its coffee products. That followed a 10% hike in February, and another 10% increase in August last year.
Also in May, Starbucks (SBUX, Fortune 500) upped the price of its packaged coffee by an average of 17% in U.S. retail stores. Starbucks was unavailable for immediate comment.
In March, Kraft hiked prices of select coffee products by 70 cents per pound on ground coffee and 6.25 cents per ounce of instant coffee. Kraft had already raised those prices in December 2010.
A Kraft spokeswoman attributed those increases to the soaring cost of green coffee, which is used to make the different blends of coffee available at cafes or grocery stores. Poor growing conditions in South America and other coffee-growing countries had led to fears of an imminent supply crunch.
But those conditions have turned around, according to the International Coffee Organization. The group cites a Wall Street Journal report that said big coffee producers -- Colombia, Mexico, Peru and all Central American countries except for El Salvador -- are having their largest harvest of coffee beans in three years.
The International Coffee Organization also noted that 8.76 million bags of coffee were exported globally in June 2011, compared with 8.02 million in June 2010.
That's a whole lot of brown brew -- coming to your cup for less green.