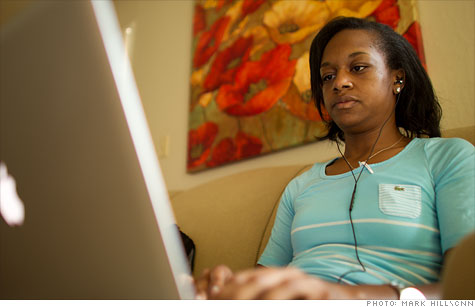 Pencil You In founder Tiffani Bell has a computer science degree and extensive programming experience -- big assets for tech entrepreneurs.
NEW YORK (CNNMoney) -- Skilled developers are Silicon Valley's scarcest resource. With big companies throwing around giant salaries and startups competing fiercely for talent, the technical ability to build what they envision is often a make-or-break issue for new ventures.
Which means tech industry entrepreneurs sort out into two distinct camps: those with coding skills and those without. Being in the "have not" camp can be a dealbreaker.
"It's like opening a restaurant and not even being able to cook the food," said Michael Karnjanaprakorn, CEO and co-founder of education startup Skillshare. Karnjanaprakorn is also an adviser for investment firm Collaborative Fund. When he scouts ventures, technical know-how is the first thing he looks for.
"I will not even talk to a company if they don't have developers in-house," he said. "Most investors bet on a team -- how can you bet on a team that's outsourced?"
For new entrepreneurs looking to break in -- like those at NewMe, a pioneering incubator for minority-led startups -- a technical background can help knock down barriers.
Tiffani Bell, a NewMe participant and founder of online appointment booking site Pencil You In, relied on her coding chops to get her startup ready in time for Demo Day -- an event where Silicon Valley investors gather to field pitches from companies seeking funding.
Bell studied computer science at Howard University and went on to intern at IBM and Hewlett-Packard before working as a Web developer for a government contractor.
"It's important to have a technical background to make sure the product actually gets built out," she said. It also cuts costs: Outsourcing often means paying a significant amount to have someone else build your product.
Bell says her technical prowess helped her product evolve rapidly in its early stages.
"Being a technical co-founder has helped me by enabling me to quickly act on customer feedback," she said. "I think investors are motivated by seeing a team with a strong technical founder -- one or more -- because they can be confident then that whatever vision is being laid out can actually be achieved in some form or another."
Stephen DeBerry, a partner at Kapor Capital and the founder of Bronze Investments, was one of many investors at NewMe's Demo Day. Bell's skill set caught his eye.
"She does have an advantage because when she gets more feedback and direction, she's going to be able to build what customers want," DeBerry said. "I think she really has a good shot of taking that information and turning that into a product feature really quickly."
But DeBerry thinks the importance of having a technical co-founder in the early startup stages really depends on the type of business being built.
"What's really important for startup success is to have a complete team," he said. "For me, there's no cut-and-dry answer -- I've seen companies succeed and companies fail because the didn't have a technical co-founder."
Serial entrepreneur Avi Muchnick -- a lawyer whose own background skews more toward design and business than coding -- says dedicated founders can offset technical gaps with other skills.
"I think a lot of people put too much emphasis on finding a technical founder," he said. "That can come later in the life of a startup."
Muchnick's current startup, Aviary, makes online photo and audio editing tools. He relies on Chief Technical Officer Iz Derdik -- "our resident technical genius and problem solver" -- to handle the code-crunching.
"At our seed stage, nobody really asked us," he said of Aviary's early discussions with investors. "When we did a venture round, then you do get these these kind of questions -- how's it going to scale?"
Of course, there's always another option for entrepreneurs without programming skills: Pick up a training manual and start learning to code.
Muchnick encourages his team to learn technical skills along the way, something he himself did.
"All of our best programmers are the people that have been coding since they were teenagers -- and they learned that on their own," he said.
CNN's Soledad O'Brien is chronicling the NewMe Accelerator journey in Black in America 4, which airs November 13. Watch the trailer on CNN.com, and check out CNNMoney's full coverage of NewMe.