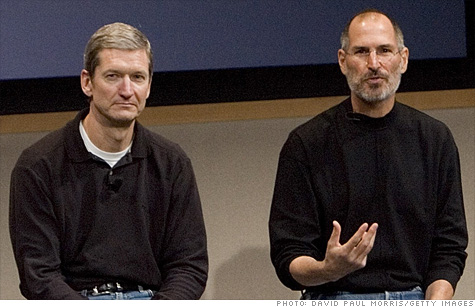 Former COO Tim Cook will take over as CEO after Steve Jobs announced his resignation late Wednesday.
NEW YORK (CNNMoney) -- Apple's stock slipped about 1% Thursday, recovering from an after-hours sell-off sparked by news that Steve Jobs was stepping down as CEO.
Jobs' resignation was announced after the close of trading Wednesday, causing the company's stock to fall more than 5% in after hours trading on heavy volume of more than 1.6 million trades.
The selling eased early Thursday, with shares of Apple (AAPL, Fortune 500) down less than $4 per share to about $372.50.
"While the stock could see some immediate headline pressure, we expect sentiment to rebound through next year with strong execution and new product cycles," said Barclay's analyst Ben Reitzes.
Jobs has been on medical leave since January and has had to take time off on several past occasions because of illness. He has battled pancreatic cancer since 2004, and he underwent a liver transplant two years ago.
"I have always said if there ever came a day when I could no longer meet my duties and expectations as Apple's CEO, I would be the first to let you know," he wrote, in his resignation letter. "Unfortunately, that day has come."
In the letter, he expressed his desire to continue his service to the company as chairman of the board, director and employee.
"Steve's extraordinary vision and leadership saved Apple and guided it to its position as the world's most innovative and valuable technology company," said board member Art Levinson. "In his new role as chairman of the board, Steve will continue to serve Apple with its unique insights, creativity and inspiration."
Tim Cook, chief operating officer and de facto leader of the company, will succeed Jobs as CEO.
Apple has a market cap of $350 billion, briefly knocking oil giant Exxon Mobil (XOM, Fortune 500) from the top of the hill as the most valuable company in the world.
Apple has been a leader in the tech industry, with a slew of popular products, including the iPod, iPhone, iPad and Macs.
The iPhone has been an especially strong seller for Apple, with competitors Research in Motion (RIMM) (maker of BlackBerry), Google (GOOG, Fortune 500), Verizon (VZ, Fortune 500), AT&T (T, Fortune 500) and Sprint (S, Fortune 500) all trying to wrangle into the top spot.