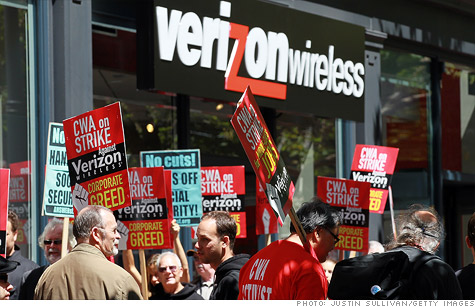 Union workers picket outside of a Verizon Wireless store last week in San Francisco.
NEW YORK (CNNMoney) -- A key reading on unemployment claims rose unexpectedly last week, as a dispute between Verizon Communications and its union employees caused thousands of workers to seek jobless benefits.
The number of first-time filers for unemployment benefits rose to 417,000 in the week ending Aug. 20, the Labor Department said Thursday. That's up 5,000 from a revised 412,000 the prior week.
At least 8,500 of those claims were due to a dispute between union employees and Verizon Communications (VZ, Fortune 500), the Labor Department said.
Economists hadn't expected that big of a jump, and were predicting initial claims to fall to 400,000 during the week, according to Briefing.com.
About 45,000 Verizon workers went on strike Aug. 7, after the telecommunications giant pushed for cuts in health benefits and pensions when its contracts with two major unions expired.
Those unions -- the Communication Workers of America and the International Brotherhood of Electrical Workers -- ended the strikes two weeks later, without reaching an agreement with the company.
As a result of the strike, 12,500 workers filed for initial unemployment claims from the government in the week ending Aug. 13. Another 8,500 workers filed for those benefits in the second week of the strike.
In most states, workers on strike are not eligible for unemployment benefits. And the weekly initial claims number merely reflects applications for the benefits -- not all of which will be approved and paid out.
"Striking workers are not eligible for unemployment benefits. So the increase in filings either reflects misinformed strikers who applied for claims but will not receive them, or it could reflect related workers -- such as contractors -- who were impacted by but not part of the strike," Joseph LaVorgna, chief U.S. economist for Deutsche Bank, said in a research note.
Spokespeople from both CWA and IBEW said neither union had a national message encouraging workers to apply for unemployment benefits. But local chapters may have informed workers of the unique rules applying to their state.
While most of Verizon's workers ended up returning to their jobs, the strike is still expected to distort the government's closely watched monthly jobs report, due out Sept. 2.
Overall, the four-week moving average of initial claims -- calculated to smooth out volatility -- rose by 4,000 to 407,500.
Continuing claims -- which include people filing for the second week of benefits or more -- fell by 80,000 to 3.641 million in the week ended Aug. 13, the most recent data available.
That was a bigger drop than economists' forecasts for continuing claims of 3.7 million, and marked the lowest level of continuing claims since September 2008.
The current unemployment rate is 9.1%.