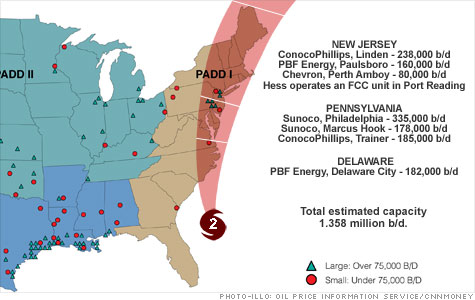 Analysts say up to 10% of the nation's refining capacity could be offline in the coming days thanks to Hurricane Irene.
NEW YORK (CNNMoney) -- Hurricane Irene headed up the East Coast Saturday, threatening the nearly 10% of the nation's refining capacity that lies in Philadelphia, New Jersey and Delaware.
Output for the refineries in the hurricane's path is over a million barrel per day, according to the Oil Price Information Service.
Late Saturday, ConocoPhillips (COP, Fortune 500) shut its Bayway refinery in Linden, N.J., according to the company's website. The refinery has a processing capacity of 238,000 barrels per day of light, low sulfur, crude oil.
Currently, the company's Trainer refinery in Trainer, Pa., which can process 185,000 barrels per day, remains open. ConocoPhillips is also preparing to shut down its East Coast Terminals.
Analysts say refineries may close for several days thanks to Hurricane Irene.
At PBF Energy refineries in Delaware and New Jersey, large ships have been sent to sea to avoid potential damage from crashing into docks, said Michael Gayda, the company's president.
On Saturday, Gayda said the refineries were running at "planned rates" and that the company had put workers on double shifts "just to be cautious."
Other pre-storm precautions include clearing away debris from drainage pipes and disassembling any construction equipment like cranes or scaffolding that could get blown down during the storm.
Gayda said no decision has been made yet as to whether the refineries will shut down or move into a "warm" mode. That mode is a partial shutdown. The company is monitoring the weather via weather services that tailor forecasts specifically to the refineries before making that decision.
"'We have a comprehensive emergency response plan in place," said Gayda.
Gasoline futures traded in New York have already spiked, rising 10 cents a gallon last week, largely on fears there will be a disruption in output from the refineries, barge routes or pipelines serving the heavily populated eastern seaboard.
That, combined with heavy travel during the upcoming Labor Day weekend, could send prices at the pump up 15 to 20 cents over the next couple of weeks, said Stephen Schork, publisher of the industry newsletter the Schork Report.
"You'll probably see a temporary pop," said Schork. "It really all depends on how bad the disruptions are."
Refineries are generally built to withstand winds from a category 5 hurricane. But they often rely on outside electricity to refine oil, and even downed wires inside the plant can cause trouble for the operation.
Irene is a Category 1 hurricane. Category 1 storms have sustained winds of 85 mph, with wind gusts of up to 105 mph. Winds of that speed are described as extremely dangerous and capable of causing extensive damage.
"The restoration of power supplies is crucial, and electricity disruptions are common after a hurricane," according to an American Petroleum Institute hurricane fact sheet.
It's far better for refineries begin an orderly shut down of their facilities, which can take many hours, than deal with a sudden power outage that could lead to dangerous conditions, said Tom Kloza, chief oil analyst at the OPIS.
Kloza expects retail gas prices, which edged up to $3.604 a gallon Saturday from $3.592 on Friday, will keep rising as the spike in futures prices from last week works its way into the market.
But both he and Schork think that over the long run, gas prices should fall.
Schork noted that come mid-September the nation shifts to less expensive "winter gas," which doesn't need to be refined as much because the cooler air is less conducive to smog formation.
And Kloza noted that despite all the hype around the hurricane, the end result is that big storms tend to keep people off the road.
"Bottom line: Hurricanes are much more reliable demand destroyers than supply destroyers," he said.