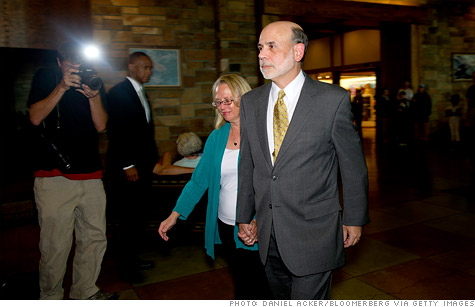 Fed Chairman Ben Bernanke and his wife Anna arrive at the economic conference in Jackson Hole, Wy.
NEW YORK (CNNMoney) -- Federal Reserve policymakers will take a closer look next month on what steps they can take to jumpstart the stalled U.S. economy, but Fed Chairman Ben Benanke warned Friday that Congress better help too.
In a speech in Jackson Hole, Wyo., the chairman announced that a one-day meeting of the Fed, originally set for Sept. 20, is being expanded to two days "to allow a fuller discussion" of what the Fed should do to respond to "disappointing" growth.
"The Federal Reserve will certainly do all that it can to help restore high rates of growth and employment," he promised.
But Bernanke gave few specifics -- and the speech was notable for its limited discussion of Federal Reserve policy.
That lack of specifics initially disappointed investors, but stocks were in positive territory by midday.
Bernanke also cautioned the Fed's powers are somewhat limited, and said that much of the responsibility for action will have to lay with a gridlocked Congress.
"Most of the economic policies that support robust economic growth in the long run are outside the province of the central bank," he said.
And he warned that when Congress weighs deficit reduction plans, it should be careful to not hurt the economy in the short-term. They "should not...disregard the fragility of the current economic recovery."
Bernanke also said a repeat of this summer's contentious debate over raising the debt ceiling would likely hurt the economy.
"It is difficult to judge how much these developments have affected economic activity thus far," he said about the threat of default and the downgrade of the U.S. credit rating. "But there seems little doubt that they have hurt household and business confidence and that they pose ongoing risks to growth."
Mohamed El-Erian, CEO of bond fund PIMCO, said it was appropriate for Bernanke to shift attention to Congress.
"What he's telling us today is 'Guys, I need help. I can't do it all on my own,'" El-Erian said.
El-Erian said the announcement of the two-day meeting in September is likely to cause a lot of speculation in financial markets.
But he and other experts said they aren't convinced the Fed will announce additional stimulus -- or that it would be the right move.
"I don't think they're under the illusion that another round of easing will boost economic growth," said Axel Merk, president of Merk Investments. "Interest rates are already so low, the marginal benefit you get from additional money has diminished."
The Fed chairman said he was confident the Great Recession and the financial crisis had not done permanent damage to the U.S. economy.
"Although important problems certainly exist, the growth fundamentals of the United States do not appear to have been permanently altered by the shocks of the past four years," he said, although a return to more typical growth and unemployment levels "may take some time."
At his speech in Jackson Hole a year ago, Bernanke signaled the likelihood that the central bank would buy additional Treasuries, partly in an effort to pump money into the economy and spur growth. The day after the November election the Fed unveiled its plans to buy $600 billion in those assets by June of this year.
The stock market loved that plan, with the Standard & Poor's 500 shooting up 30% between the speech and a peak in May. The economy also showed signs of life, with employers hiring at a strong pace and unemployment falling in the spring of this year.
But the asset purchases also sparked criticism of the Fed, from foreign finance ministers, some leading Republican and even some members of the Fed. Critics blamed it for a variety of ills, including the decline of the dollar and rising prices, most notably oil and food.
But recently the U.S. economy has slowed dramatically. Friday morning before the speech the Commerce Department reported that gross domestic product, the broadest measure of the nation's economic health, grew only 1% in the second quarter, weaker than previously estimated. Hiring, consumer spending, manufacturing and housing have also been weak in recent readings.
All that has raised fears of a double-dip recession. The stock market has fallen sharply on those fears.
At its June meeting, the Fed cut its outlook for economic growth the rest of this year and into next year. In August its statement gave a gloomier outlook, and a divided Fed announced it would keep interest rates exceptionally low until at least the middle of 2013. It also said it is prepared to adjust its asset holdings as appropriate.
Merk said it was unrealistic to expect Bernanke to announce a change in policy at this year's meeting, especially with three Fed members dissenting on the latest policy statement.
"People put all these expectations into this speech, and in all fairness, it used to be that this was just a fishing trip," he said.