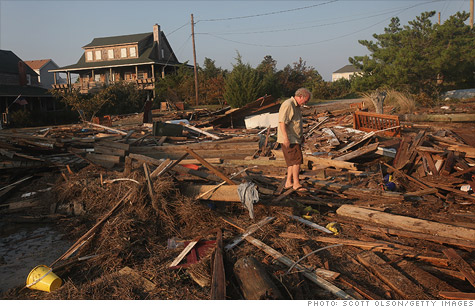 Hurricane Irene made landfall in North Carolina, destroying this cottage in Nags Head, which was built in 1903.
NEW YORK (CNNMoney) -- Hurricane Irene left 27 people dead, 3 million customers without power and potentially billions of dollars in damage from flooding and wind.
But the economic damage could have been a lot worse, experts said.
"It was much less bite than bark," said Matt Carletti, specialty insurance analyst at JMP Securities. "Rounding up, it's a $10 billion event, not 20 or 30 or 40."
Hurricane damage could total $7 billion, according to Kinetic Analysis Corp., which estimates the impact of natural and man-made disasters on the economy. Less than half of that -- some $3 billion -- will be covered by insurance, the company said.
Eqecat, a catastrophe risk-modeling firm, said that South and North Carolina suffered between $200 million and $400 million in insured losses. And the Caribbean -- including the Bahamas, Turks and Caicos and Puerto Rico -- suffered damage ranging from $300 million to $600 million.
"Certainly, the storm was, in terms of damage and losses, less than expected," said Jose Miranda, director of client advocacy for Eqecat. "The fact that the storm hit the U.S. coast three separate times served as the number one factor why it weakened as it moved up the East Coast and mitigated losses."
As of Monday morning, Vermont seemed to bear the brunt of flood damage from the hurricane, with some towns in the southern part of the state entirely covered by water.
But the full extent of the damage, in monetary terms, was unclear early Monday.
"Economic impact is still to be seen," said Miranda. "There are towns that are underwater right now near Philadelphia and up in New York and Vermont."
Also, oil company ConocoPhillips (COP, Fortune 500) said that it had shut down its Bayway refinery in New Jersey as a result of the storm "until it is safe to resume operations."
So far, the estimates are nowhere near the $45 billion in private insurance damage that Hurricane Katrina left in its wake in 2005, not including flood losses, according to the Insurance Information Institute.
Last week, Hurricane Irene was preceded by dire projections. CoreLogic (CLGX), a provider of business information, estimated that about 1,875,000 residential and commercial properties along the coast from Wilmington, N.C., to Boston were at risk of storm surge flooding. CoreLogic said the areas at greatest risk were Long Island, N.Y., and Virginia Beach.
But even if the storm wasn't as devastating as many expected, it will put further pressure on the insurance companies like Allstate (ALL, Fortune 500), Travelers Companies (TRV, Fortune 500) Inc., MetLife (MET, Fortune 500) and Chubb Corp (CB, Fortune 500).
The insurance industry has already suffered multi-billion dollar losses from a tempestuous 2011. April storms in the Southern states caused about $5 billion in insured losses and a tornado the following month in Missouri caused $3 billion in damage.
But Carletti said insurers were likely to shake off the less-than-expected damage from the hurricane. In fact, insurers were leading Wall Street's rebound on Monday.
Power loss and structural damage from the storm are likely to affect other businesses, particularly retailers and construction contractors, for better or for worse, according to the National Federation of Independent Businesses.
"Having to close your doors and not be functioning, that's where your biggest loss is going to be," said NFIB spokeswoman Cynthia Magnuson, noting that retailers could take a serious hit from the "down time" resulting from power loss.
Gerald McSwiggan, senior manager of disaster assistance and recovery for the U.S. Chamber of Commerce, said some of the larger retailers, like Safeway (SWY, Fortune 500) and CVS (CVS, Fortune 500), could ride out a power failure if they have backup generators.
But he added that smaller retailers are less likely to have that kind of backup and "don't have the cash flow to sustain a long power outage."
Magnuson said construction companies could also suffer from closures, at least in the short term, but they could also reap long-term benefits from repairing storm damage.
"There's going to be a lot of new construction that's going to result from this," she said.