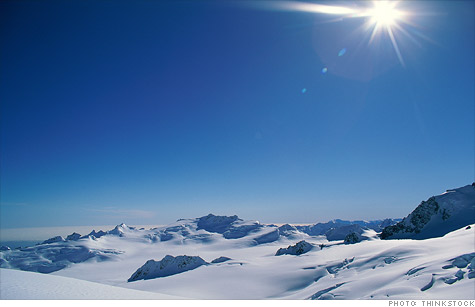 Exxon to get access to huge Arctic and Siberian reserves, Rosneft will benefit from deepwater and advanced drilling techniques.
NEW YORK (CNNMoney) -- ExxonMobil is making a big move into the Russian Arctic. The U.S. oil company entered into a partnership with Russian oil giant Rosneft Tuesday, giving Exxon access to vast Arctic oil deposits and Rosneft a leg up in cutting-edge oil technology.
Executives from the two companies inked the deal in a ceremony attended by Russian Prime Minister Vladimir Putin, according to an Exxon press release. Rosneft is 75% owned by the Russian government.
"This large-scale partnership represents a significant strategic step by both companies," Exxon Chief Executive Rex Tillerson said in a statement. "This agreement takes our relationship to a new level and will create substantial value for both companies."
The deal comes just months after Exxon (XOM, Fortune 500) rival BP sought to strike a similar arrangement with Rosneft. That deal collapsed, with some speculating that BP (BP) didn't do enough to entice key Russian players.
For Exxon, the Arctic rights are a prized concession as major international oil companies like Chevron (CVX, Fortune 500) and Shell (RDSA) scramble to find new reserves in an era when increasing amounts of the world's remaining oil are controlled by national oil companies like Saudi Arabia's Aramco or Mexico's Pemex. The Arctic is thought to hold vast amounts of untapped oil.
The deal also gives Exxon access to Siberian "tight oil" plays, which would include oil from shale or other formations that require the use of hydraulic fracturing -- a controversial practice that uses water, sand and chemicals to free the entrapped oil or gas but has raised concerns over its effects on groundwater.
Hydraulic fracturing, known as fracking, is widely used in shale formations in the U.S. and has recently unlocked huge new energy deposits, but it's relatively rare overseas.
As another part of the deal, Rosneft gets access to Exxon holdings in the U.S. The Exxon press release specifically named tight oil plays in Texas and deepwater deposits in the Gulf of Mexico. Exxon said these are designed to give Rosneft "a focus on building offshore and tight oil expertise." The two companies are also expected to partner together on other projects worldwide.
The agreement calls for $3.2 billion to fund an exploration program in Russia's Arctic Kara Sea, and the Black Sea. It also calls for the companies to establish a joint research facility in St. Petersburg to develop technologies for Arctic oil extraction.
"We have a clear vision for Rosneft's strategic direction," Rosneft President Eduard Khudainatov said in the Exxon press release. "This venture comes as a result of many years of cooperation with ExxonMobil and brings Rosneft into large scale world-class projects, turning the company into a global energy leader."