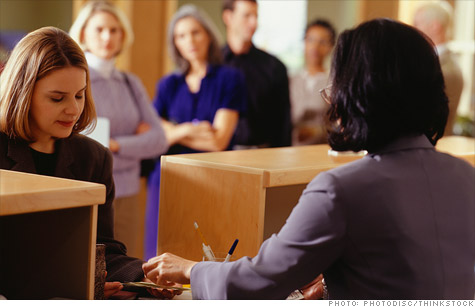 NEW YORK (CNNMoney) -- Several of the nation's biggest banks are waiving overdraft fees, late fees and ATM fees for customers impacted by Hurricane Irene.
JPMorgan Chase (JPM, Fortune 500) is waiving fees until Sept. 4 for customers in 13 states who make late payments on credit cards or loans, the bank said Tuesday. Customers who are unable to access Chase ATMs won't be charged for using another bank's ATM (which typically costs $2), and overdraft fees will also be waived during this time.
In addition, customers who are desperate for cash will be permitted to make early withdrawals on certificates of deposit without an extra charge.
Chase sent letters to its customers in New York, New Jersey and Connecticut -- the three states where it has the most branches -- on Monday announcing this relief. It then added customers in ten other hard-hit states, including North Carolina, Virginia and Maryland, to the list Tuesday (even though Chase doesn't have branches in the states). Letters are being sent to customers in these 10 additional states on Tuesday, a Chase spokesman said.
Wells Fargo (WFC, Fortune 500) is letting its customers in New York, New Jersey and Connecticut withdraw money from ATMs outside its network for no cost. Typically, the bank charges customers a $2.50 fee for using another bank's ATM. Customers can also make early withdrawals from CDs without paying a fee.
Capital One (COF, Fortune 500), Bank of America (BAC, Fortune 500), HSBC (HBC), PNC (PNC, Fortune 500) and Citi (C, Fortune 500) said they are giving customers help on a case-by-case basis. Customers should contact the bank to request fee waivers, reduced APRs and payment plan changes.
"We are ready to provide financial recovery solutions should clients be in need of assistance, including access to cash and waiving fees for those who have been impacted by the storm," a Citi spokesman said. "We encourage clients to contact customer service or go to a nearby branch, and we will work to help with their individual needs."
At least 27 deaths in nine states have been blamed on Hurricane Irene, with one person still missing. While the Hurricane has now passed, many parts of the Northeast remain flooded. And the storm is expected to cost East coast residents and insurers billions of dollars in damages.