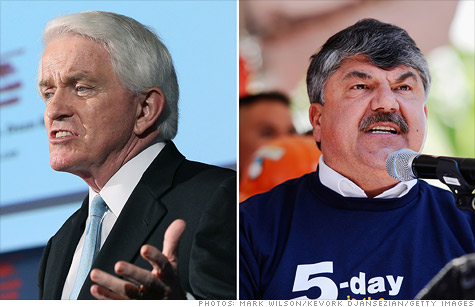 Chamber of Commerce chief Thomas Donohue and AFL-CIO head Richard Trumka disagree on a lot - but say there's an urgent need for national infrastructure.
WASHINGTON (CNNMoney) -- Leading representatives of big business and labor unions laid out their plans Wednesday for how Congress could create jobs and kick start the faltering economic recovery.
The two men -- perhaps Washington's most powerful and visible advocates for their respective sides -- disagreed on a lot but came together in one key way: America has an urgent need for more spending on critical infrastructure like roads and bridges.
"The longer you postpone doing infrastructure the more it costs to fix it," said AFL-CIO President Richard Trumka, who added that it was "insane" for Congress not to immediately pass a bill promoting road and other construction.
Thomas Donohue, president of the U.S. Chamber of Commerce, called on Congress to move ahead on several pending infrastructure proposals, including a critical highway bill that expires on Sept. 30.
"If you do get them and we keep pushing forward on them we can create jobs that we need tomorrow," Donohue said.
But beyond infrastructure, the two parted ways. The rest of the litany of ideas to create jobs put forth by the two leaders couldn't be more different.
The Chamber of Commerce wants trade deals with Colombia, Panama and South Korea. It is looking for a moratorium on new regulations not already required by law. And it is calling for a tax holiday for big companies that "repatriate" profits they now shelter offshore.
The AFL-CIO opposes the trade deals and wants more oversight of Wall Street including laws that crack down on financial speculation. The union also argues for more spending on unemployment benefits and Medicaid, as well as funding to protect public workers from layoffs.
On housing, the AFL-CIO is calling on Congress to allow bankruptcy judges and mediators to forgive some of the balance owed by homeowners whose mortgages are bigger than their home values.
"We really do have to correct and fix the mortgage crisis," Trumka said.
President Obama is set to add his voice on jobs and the economy on Sept. 7. On Wednesday, he formally told Congress he wants to address lawmakers in a joint session during prime time.
In fact, Obama might talk about an idea endorsed by both Trumka and Chamber officials: Creation of a so-called infrastructure bank that would match public and private dollars on big construction projects.
Everyone is pulling out jobs ideas heading into Labor Day weekend, as the unemployment rate hovers above 9% and 14 million Americans remain out of work. For Obama, the stakes are especially high since the unemployment rate has not been below 8.8% since March 2009, two months into his presidency.
Energy and taxes: Both the AFL-CIO and the Chamber of Commerce want Congress to take steps to reduce reliance on foreign energy and to revamp the tax code. But they have different ideas on how to do so.
On energy spending, the Chamber wants increased production of oil and gas on federal and private lands.
The AFL-CIO wants to see more programs that give companies incentives to make their buildings more energy efficient.
On tax reform, the Chamber wants Congress to lower taxes for corporations and to reform the tax system so it rewards people who save and invest.
The AFL-CIO want a tax system that "closes tax loopholes" and end incentives for companies that move jobs overseas.
None of the ideas that the Chamber and the AFL-CIO chiefs talked about are new -- a point Donohue acknowledged.
"The reason you're hearing them again is because [lawmakers] haven't done a damn thing about them," Donohue said.
Limited policy options: Even if some of the job creation ideas espoused Wednesday were enacted, experts from both camps say the economy still faces big problems, starting with housing.
Chamber economist Martin Regalia said he predicts the economy can't get back to "substantial performance" until the housing market bottoms out.
"If you're looking for a miracle, go to church -- we're not handing out miracles," said Donohue. "If you're looking for practical ideas that can recover the millions of jobs we've lost since 2007, then start these things right now."