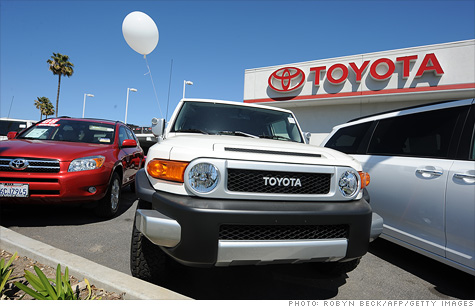 While auto sales were higher overall, Japanese carmakers' sales fell as they continue to struggle to recover from the March earthquake that severely disrupted their supplies.
NEW YORK (CNNMoney) -- Consumers shrugged off a slowing economy, plunging stock markets and even a hurricane to keep buying cars at a decent clip in August.
Industrywide sales were up 7.5% from a year ago in August. And the pace of August sales works out to an annual rate of 12.1 million, off only slightly from the July's 12.2 million pace.
"All in all it wasn't a horrible month, which it sure looked like it could have been," said Michelle Krebs, analyst for Edmunds.com. "All those factors caused us pause when making the forecasts, but every week we saw sales holding up."
Even with consumer confidence falling to a two-year low in August most auto manufacturers posted gains of better than 10% compared to a year ago. Many sales reports came in close to analysts forecasts and Chrysler Group, which posted a 27.5% rise in sales, topped forecasts.
"Our view is consumers are being cautious, and appropriately so. But they are not retrenching," said Don Johnson, vice president of U.S. sales for General Motors (GM, Fortune 500), which posted an 18% rise.
GM estimated it only lost 1,000 sales to Hurricane Irene. Krebs said other automakers told her they might have lost as many as 3,000 sales due to the storm. But most of those sales are expected to be made up quickly in September.
Sales could even get a lift from car owners who need to replace vehicles ruined by flooding.
The exceptions to the industrywide gains were the two leading Japanese automakers, Toyota Motor (TM) and Honda Motor (HMC), which are both still struggling to supply dealers after the March earthquake. Sales at Toyota dropped 12.7%, while Honda's plunged 24.3%.
"If you go to any Toyota or Honda dealer, there are no cars," said Krebs.
Domestic automakers got a 120-day respite from head-on Japanese competition as those automakers recover, said Paul Bale, economist for Nationwide. "By mid-September, early October, availability won't be an issue for Toyota and Honda any longer, and there could be some competition on pricing."
But with tight supplies from Japanese automakers in August, and with some domestic models gaining popularity, auto executives and experts said pricing was strong in the month. The big dollar incentive offers that typically came with the end of the model year clearance at the end of a summer was largely absent in August.
Also helping was a decline in gasoline prices, which lifted sales of pickups and SUV's that were hit by high pump prices earlier in the year. There was also better availability of credit to buyers, according to Krebs.
Despite gains in sales and market share, General Motors' and Ford Motor's (F, Fortune 500) stocks both lost ground on a down day for markets.
Jesse Toprak, analyst with sales tracker TrueCar said that the annual sales pace is still anemic. He said people are only buying cars if they absolutely need to replace vehicles that are no longer practical to repair.
"What we need is to get those people who'd like to get a car, not [just those who] need to get a car, back in the market," he said.
Still with the restructuring that the auto industry went through in recent years all the U.S. automakers are profitable, even with sales at these historically modest levels. Before the financial crisis and the bankruptcies GM and Chrysler Group were all losing money even with much more robust sales.
"That's the good news. If they're able to post profits at an 11 or 12 million sales, just wait till we get to 13 or 14 million" said Toprak.