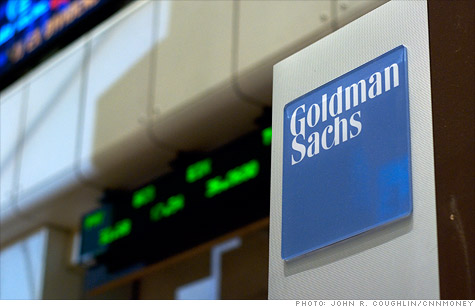 NEW YORK (CNNMoney) -- The Federal Reserve sanctioned Goldman Sachs on Thursday, saying the investment bank must investigate questionable lending and foreclosure practices in its former mortgage unit.
The action orders Goldman to review foreclosure proceedings by Litton Loan Servicing between 2009 and 2010 to address "a pattern of misconduct and negligence relating to deficient practices," the Fed said.
The move came on the same day that Goldman announced it had sold Litton, the 23rd-largest U.S. mortgage servicing company, to Ocwen Financial Corp. (OCN)
The Fed said Goldman will be required to compensate any homeowners that were found to have been harmed financially by the alleged misconduct. The central bank also said it plans to announce monetary penalties against Goldman.
With the sale of Litton, Goldman no longer has any mortgage servicing operations. But if the firm decides to resume that business, the Fed said it would require Goldman to implement greater oversight and risk management policies.
The bank acknowledged that it would be responsible for paying any federal penalties related to misconduct at Litton, according to the Fed. Goldman declined to comment.
In April, the Fed announced similar actions against 14 other major U.S. banks, including Bank of America (BAC, Fortune 500), JPMorgan Chase (JPM, Fortune 500), Wells Fargo (WFC, Fortune 500).
That action came after it was revealed that loan servicers were rapidly signing foreclosure documents without even reading them, uncovering a morass of serious paperwork problems in what has become known as robo-signing.
"These deficiencies represent significant and pervasive compliance failures and unsafe and unsound practices at these institutions," the Fed said in April.
Banks and mortgage services are also being investigated by all 50 state attorneys general.