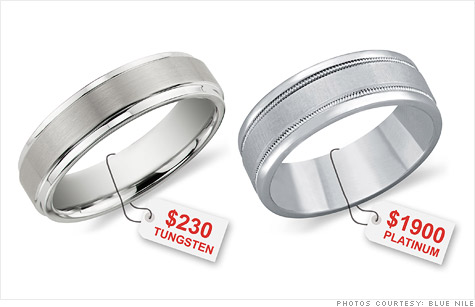 Jewelers are shunning pricey gold and embracing cheaper metals like tungsten, cobalt, even stainless steel for making items like wedding bands.
NEW YORK (CNNMoney) -- Forget about sentimentality and tradition.
Skyrocketing gold prices have jewelers and cash-strapped couples clamoring for wedding bands made of less expensive metals like tungsten, cobalt and even stainless steel.
Over the past three months, tungsten, a steel-gray hard metal, has become an increasingly popular choice over gold with wedding band shoppers at Blue Nile (NILE), said John Baird, public relations director with the online jewelry seller.
"The response to our recent men's tungsten collection was immediate," said Baird, adding that the company subsequently debuted a men's Titanium wedding band collection in July.
"In 30 days, one in every 10 men's wedding bands we sold that month was titanium," he said.
As the economic downturn forces Americans to tighten their belts, consumers shopping for jewelry have become more willing to consider cheaper alternatives, Baird said.
Kay Jewelers has also been selling jewelry made of tungsten and titanium for a while. Company spokesman David Bouffard said these "alternative" metals give customers more choice and a wider range of prices to choose from when it comes to wedding jewelry.
Blue Nile's tungsten wedding bands cost a little over $200 while the cost of a Titanium wedding band is about $100.
Compare that to $1,900 for a classic men's platinum wedding band and $700, or higher, for a white gold band sold at Blue Nile
But it's not just those celebrating their nuptials that are feeling the pinch. Jewelry makers and sellers themselves are also struggling with sharply higher prices for precious metals like gold and platinum.
Gold costs about $1,840 an ounce, up 204% from about $605 per ounce just five years ago.
So far, jewelers are limiting collections made of these industrial metals to men's lines.
"To men, there's a coolness factor with tungsten, titanium and stainless steel," said Peggy Donahue, spokeswoman with Manufacturing Jewelers & Suppliers of America.
Industry experts said male consumers seem to like knowing that these industrial, space-age metals are used in making fighter jets, for example.
"Women aren't there yet," said Amanda Gizzi, spokesperson for Jewelers of America.
"Especially with wedding jewelry, women want to stay traditional and buy gold or platinum," she said. "They don't want to compromise at all because they're thinking about passing down these rings for generations."
Don't tell that to Kyle Marie Lotspeich. Practicality trumps sentimentality for Lotspeich, who lives in Ashburn, Virginia.
Kyle and her fiancé James are getting married on Oct. 1. "I would have also bought a tungsten wedding band but Blue Nile wasn't selling one for women," she said.
But her fiancé did buy a $320 white tungsten wedding band from the jeweler.
"Our wedding is on a tight budget and we're mostly paying for all of it ourselves," she said.
"A gold wedding band would have cost us close to $1,000. This has definitely helped us save money and maybe put it toward paying for something else for our wedding."
Blue Nile hasn't yet debuted a tungsten bridal collection but is looking into it.
Until two years ago, American jewelry designer Scott Kay had only used gold and platinum for his unique and popular high-end engagement and wedding rings.
In 2009, Kay, who has been designing bridal jewelry for 27 years, became interested in another white metal that has the same sheen as platinum but costs substantially less -- cobalt. Kay also considered experimenting with tungsten but gave up on that because he thinks it's too brittle.
Cobalt is an industrial metal, used in aerospace technology and in medical equipment such as joint replacements.
"When we looked at this metal, it was a no brainer to us," said Kay. "Why not make men's weddings rings from this?"
What's more, the timing for an affordable collection in the $200 to $300 price range was perfect. "It was just when the economy was softening," he said.
Today, Kay said his cobalt collection is in more than 2,000 stores.
But Kay offers a reality check: "A person who is fond of gold and platinum will always own it," he said.
"But for 20- and 30-year-olds who have become more frugal and practical, if they can buy a hypoallergenic metal that doesn't chip and is less than half the price of a platinum ring, why not?" Kay said.