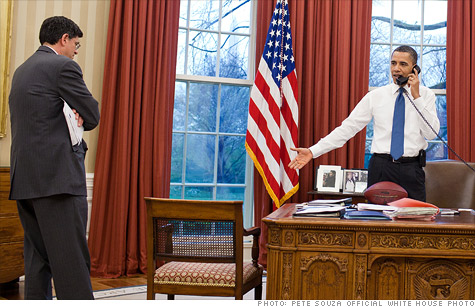 White House budget chief Jacob Lew said lower forecasts show need to "reinvest in economic growth and job creation."
NEW YORK (CNNMoney) -- Like most economists, the White House's budget experts have grown less optimistic about economic growth and jobs, having been sobered by recent developments such as the debt crisis in Europe and continued troubles in housing.
The White House budget office forecast Thursday that the unemployment rate won't fall below 6% until 2017 -- two years later than it predicted in February, when President Obama delivered his 2012 budget proposal to Congress.
The Office of Management and Budget also lowered its estimates for annual GDP growth by roughly a percentage point for this year, next year and 2013. Its forecasts for 2015 and 2016 are somewhat higher than they were.
OMB said in its "mid-session review" that it now expects the economy to grow at a 1.7% rate this year, down from its 2.7% forecast in February.
Growth is expected to be 2.6% next year and 3.5% in 2013.
Despite the downward revisions, "we are not forecasting a double-dip recession," said Katharine Abraham, a member of the White House Council of Economic Advisers.
In terms of unemployment, OMB said that it still expects the jobless rate -- currently 9.1% -- to gradually come down.
But the pace of decline is now expected to be more gradual. For 2011, it forecast the rate will stay at 9.1%.
At the same time, its forecast for unemployment this year is actually lower than predicted in February.
The Office of Management and Budget's mid-session review comes a week before President Obama is scheduled to deliver a series of proposals to boost employment and reduce deficits to a joint session of Congress.
"The review largely underscores the need to get back on a sustainable fiscal path and reinvest in economic growth and job creation," said White House Budget Director Jacob Lew.
The White House also lowered its 10-year Treasury interest rate expectations in the wake of Federal Reserve Chairman Ben Bernanke's pledge to keep rates low until mid 2013.
The budget office also said it still expects inflation to be moderate, coming in around 2% for much of the next decade.
In terms of deficits, the administration now expects the deficit for this year to be $1.32 trillion, 20% below what it had forecast in February. A key reason for the improvement: more tax receipts and less spending than expected.
Deficits over the next decade are also expected to be better than they were forecast to be at the start of the year. That's thanks in large part to the passage of the Budget Control Act, which has the potential to reduce the 10-year deficit by at least $2.1 trillion.
While slower near-term growth will have an impact on people's lives, the effect on the budget outlook over 10 years isn't that substantial, the OMB said. That's because any resulting increase in deficits is largely offset by a narrowed gap between taxes and spending.