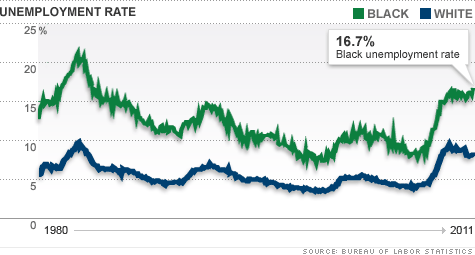 The unemployment rate for blacks surged to 16.7% in August, its highest rate since 1984, the Labor Department reported Friday.
NEW YORK (CNNMoney) -- The August jobs report was dismal for plenty of reasons, but perhaps most striking was the picture it painted of racial inequality in the job market.
Black unemployment surged to 16.7% in August, its highest level since 1984, while the unemployment rate for whites fell slightly to 8%, the Labor Department reported.
"This month's numbers continue to bear out that longstanding pattern that minorities have a much more challenging time getting jobs," said Bill Rodgers, chief economist with the Heldrich Center for Workforce Development at Rutgers University.
Black unemployment has been roughly double that of whites since the government started tracking the figures in 1972.
Economists blame a variety of factors. The black workforce is younger than the white workforce, lower numbers of blacks get a college degree and many live in areas of the country that were harder hit by the recession -- all things that could lead to a higher unemployment rate.
But even excluding those factors, blacks still are hit with higher joblessness.
"Even when you compare black and white workers, same age range, same education, you still see pretty significant gaps in unemployment rates," said Algernon Austin, director of the Race, Ethnicity, and the Economy program at the Economic Policy Institute. "So I do think the fact of racial discrimination in the labor market continues to play a role."
About 155,000 blacks got jobs in August, but the group's unemployment rate still went up because those jobs weren't enough to make up for all the people who started looking for work during the month.
However, the gain for whites of 211,000 jobs was enough to bring their unemployment rate down.
Overall, black men have it the worst, with joblessness at a staggeringly high 19.1%, compared to 14.5% for black women.
Black unemployment has now remained above 10% for four straight years, and the given current economic sluggishness, some experts say it's safe to predict the rate will remain above 10% for four more years.
"Our job creation is just not happening -- certainly not at the rate necessarily to bring rapid reductions to the unemployment rate," Austin said.
Latinos saw their unemployment rate remain unchanged at 11.3% in August. Unemployment remains at 9.1% for the country as a whole.
Have you run out of unemployment benefits? How are you surviving? Send an email to realstories@cnnmoney.com and you could be profiled in an upcoming piece on CNNMoney. Please include your phone number. For the CNNMoney Comment Policy, click here.