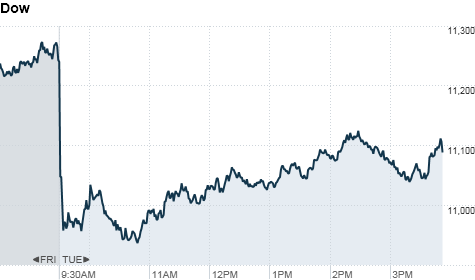 Click the chart for more market data.
NEW YORK (CNNMoney) -- The long weekend was not long enough for some investors on Wall Street.
U.S. stocks fell Tuesday, extending last week's losses, following a major selloff in Europe on Monday.
European markets ended mixed Tuesday after the Swiss National Bank moved to stabilize the nation's currency.
But the long-running debt crisis in Europe, which appears to be spreading from Greece to Italy and other vulnerable nations, continued to weigh on U.S. markets.
"Uncertainty surrounding the health of Europe's financial system continues, with no definitive news," said Jason Pride, director of investment strategy at Glenmede.
The Dow Jones industrial average (INDU) fell 101 points, or 0.9%, to close 11,139. Earlier in the day, the blue-chip average sank over 300 points to trade below the 11,000 mark
The S&P 500 (SPX) fell 9 points, or 0.9%, to 1,165. The Nasdaq Composite (COMP) sank 6 points, or 0.2%, to 2,474.
U.S. financial markets were closed Monday for the Labor Day holiday. Last week, the major indexes all ended lower after sharp losses on Thursday and Friday.
Stocks fell on Friday after the U.S. government said the nation's employers added zero jobs to their payrolls in August. The report renewed fears that the United States may be headed into another recession.
"We've got troubles on both sides of the pond and it's hard for investors to get excited about stocks with so much uncertainty," said Art Hogan, managing director at Lazard Capital Markets.
Hogan said investors are looking for more clarity on how much it will cost to resolve the debt problems in Europe and stimulate economic growth in the United States.
President Obama will outline steps to boost hiring Thursday in a highly anticipated speech to Congress. Federal Reserve Chairman Ben Bernanke will discuss the nation's economic outlook on the same day at an event in Minnesota.
But many investors say political gridlock could get in the way of progress as lawmakers return from recess.
"The question is can they agree to get anything done," said Marc Pado, U.S. market strategist with Cantor Fitzgerald. "They have been so unwilling to budge, and it doesn't sound like things are moving in the right direction."
In the meantime, investors were flocking to assets that are seen as safe havens.
The price on the benchmark 10-year U.S. Treasury rose, pushing the yield down to 1.98% from 2% late Friday. Earlier, the yield fell to a record low level of 1.91% as prices rose.
Despite the bearish tone Tuesday, market analysts said shares of some companies are trading at bargain prices compared with potential earnings.
"This is really a stock pickers' market right now," said Anthony Conroy, head trader at BNY ConvergEx Group. "There are some tremendous opportunities to make long-term investments."
Companies: Shares of major U.S. banks were among the weakest performers.
Bank of America (BAC, Fortune 500) fell 3.4% after reports surfaced that the bank could cut 30,000 workers over several years.
On Friday, the federal agency overseeing Fannie Mae and Freddie Mac filed lawsuits against 17 financial institutions. The lawsuits cited Bank of America, Citigroup (C, Fortune 500), JPMorgan Chase (JPM, Fortune 500) and Goldman Sachs (GS, Fortune 500); and were filed in an attempt to recover billions of dollars in losses from risky mortgage investments.
Several European banks were also named in the lawsuit, including Société Générale, Deutsche Bank (DB), HSBC (HBC), Credit Suisse (CS) and Barclays (BCS).
Shares of European banks have already been battered by concerns about their exposure to billions of dollars worth of sovereign debt.
"The financials are leading the way down," said Conroy. That's troubling, he added, because "you can't have a healthy economy without healthy financial institutions."
Beyond bank stocks, shares of Hewlett Packard (HPQ, Fortune 500) and General Electric (GE, Fortune 500) were also under pressure. But Pfizer (PFE, Fortune 500) and Johnson & Johnson (JNJ, Fortune 500) managed to post modest gains.
Economy: The Institute for Supply Management's services report for August came in at 53.3, up from July's reading of 52.7 and well above economists' forecasts of 51. Any reading above 50 signifies expansion.
World markets: After a painful selloff on Monday, stocks in Europe closed mixed Tuesday.
The DAX (DAX) in Germany and France's CAC (CAC) 40 both lost 1%. But Britain's FTSE (FTSE) 100 rose 1%.
Asian markets also ended mixed. The Shanghai Composite (SHCOMP) slipped 0.3% and Japan's Nikkei (N225) fell 2.2%, while the Hang Seng in Hong Kong (HSI) rose 0.5%.
Currencies and commodities: The dollar rose against the euro, British pound and the Japanese yen.
The dollar jumped 9% versus the Swiss franc following the announcement from the SNB.
Oil for October delivery tumbled 43 cents to close at $86.02 a barrel.
Gold prices surged to an intraday record earlier Tuesday of $1,923.70 an ounce. But the precious metal retreated later in the day, rising $1.50 to settle at $1,878.40 an ounce.