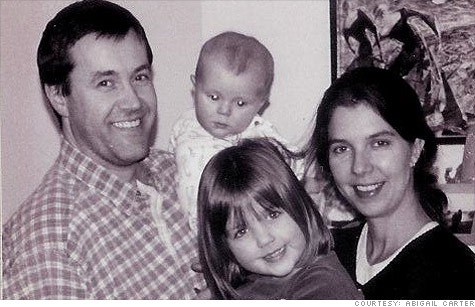 Abigail Carter, her son Carter and her daughter Olivia have been living on a payout from the September 11 Victims Compensation Fund following the death of her husband Arron Dack.
NEW YORK (CNNMoney) -- On Sept. 11, 2001, Abigail Carter went from wife to widow in a matter of minutes, left with no means to care for her two young children.
"It was absolutely terrifying," said Carter, who had recently been laid off from her job as a Web project manager. Her husband, Arron Dack, was the family's sole breadwinner.
Dack died during a business meeting at Windows on the World, the restaurant at the top of the World Trade Center, when it was destroyed in the most devastating terrorist attack on American soil.
Dack, a senior vice president at Encompys, was one of 2,753 people killed by al Qaeda terrorists that day. Traumatized by her husband's death, Carter and her son and daughter faced an uncertain future.
"At that moment in time, I was still unemployed and he had just started a brand new job," said Carter, who was then living in Montclair, N.J. "I had no idea what the extent of his benefits were. I had no idea if we were going to get anything at all."
On Sept. 30, 2001, she learned that the health insurance she had from her late husband's job was canceled. But fortunately, she said, her husband had set up life insurance "about a month before he died." She did not disclose the size of that payment, which she received "a month or two" after his death.
Within two months of the attacks, she went back to work as a Web project manager to get health insurance for her family. The job gave her some financial security and something productive to focus on in the wake of her husband's death. But she found it difficult to balance the duties of a full-time management position with the responsibility of being a single parent to two grief-stricken kids.
So Carter quit her job in July 2003. This was made possible by the $7 billion September 11th Victims Compensation fund, which was created by Congress to compensate those who lost family members in the attack and to pay injured survivors.
Carter got her payment in August of that year. She wouldn't say how much she received, but the average payment from the fund was $2,083,000. The payouts were determined using a formula that incorporated the victims' annual salary, how many more years they had left in the workforce and the number of dependents they had. The value of any life insurance polices was subtracted from the amount the beneficiaries received from the fund.
The payout allowed Carter to move to Seattle for a "fresh start" about four years after the loss of her husband and focus on raising her children full-time. She put about half of the money into a fund for her children, now aged 12 and 16, and set up trusts for them.
She uses the money to pay $1,000 a month for health insurance and to cover the cost of therapy for her family, which is still coping with the tragedy. Years later it's difficult, especially with the 10th anniversary of the attacks and the recent death of terrorist mastermind Osama bin Laden.
"I knew I was supposed to be feeling a sense of vindication now that Arron's death in Tower 1 of the World Trade Center had been avenged, but all I could feel was numb," wrote Carter, in an op-ed piece for The Seattle Times.
Despite all the benefits made possible by the fund, Carter said that she felt strange taking the money.
"It feels like blood money to me," she said, using a term that's often used by September 11 families. "That money came about as a result of my husband's death."
The money also came with a caveat. Like other beneficiaries, Carter had to agree to never sue the airlines for whatever role they played in the disaster.
"I felt as though I had to sell my soul to get this money," she said. "It was just the act of having to sign on the dotted line, saying that we would not sue the airlines. When you do that, it really feels like you're signing in blood, that you're signing your soul away."
Carter, like many other survivors, got pro bono assistance with managing her money. Debra Morrison, a certified financial planner, helped her manage the payout so it would continue to support her and her children for many years. For the most part, she invested in index funds.
Carter who is the author of a book called "The Alchemy of Loss, A Young Widow's Transformation," said that widows deal with death in many ways, including alcohol and drugs. She said that some of them, fueled by the September 11th Victims Compensation Fund, go shopping as a distraction from their loss.
"I don't like to shop, but where I have fallen into the same trap is that I tend to give it away," she said. "I'm very philanthropic. It's dirty money and you just want to make it good."
Carter, who is originally from Canada, said she might go back to work someday, most likely returning to work on a Web site.
"I may have to go back eventually in order to get health care coverage," she said. "It's either that, or move back to Canada."