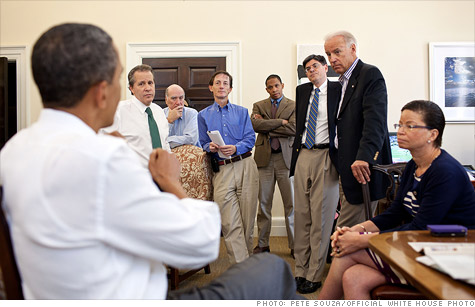 President Obama and his economic team will propose new stimulus measures.
NEW YORK (CNNMoney) -- Now is the time for action.
That's the message the White House is bringing to Congress as lawmakers return to work this week.
In a major speech Thursday night, President Obama is expected to argue that the government must do more to spur job growth, investment and economic expansion.
"I'm going to propose ways to put America back to work that both parties can agree to, because I still believe both parties can work together to solve our problems," President Obama said in a speech on Labor Day.
Why now? After years of modest growth, the economy is hovering just above stall speed, and the risk of the country falling into recession is on the rise. Hiring has ground to a halt, the unemployment rate remains sky-high and systemic problems continue to hamstring the housing market.
But even with the economy slowing, lawmakers may not be able to coalesce around any of the proposals Obama may spell out. After all, compromise and bipartisanship are in desperately short supply in Washington.
"I don't think economy-boosting measures are going to be in the cards if they require new spending," said Craig Jennings, the director of federal fiscal policy at OMB Watch, a group that monitors federal spending.
Still, the White House is hoping for action. The details of the plan are being kept under lock-and-key, but here are some ideas Obama is likely to be considering.
Infrastructure bank: Democrats, and Obama in particular, love talking about investments in infrastructure. One top priority: a national "infrastructure bank."
Here's how it would work: After an initial round of funding -- maybe as little as $10 billion -- the bank would offer loans to give private-sector projects a jolt of money. Eventually, interest paid on the loans would make the bank self sufficient.
New hire tax credit: Give businesses a tax credit if they hire jobless workers. That was the idea behind the HIRE Act, a $13 billion piece of legislation that was in place for much of 2010 but has since expired.
Something similar could be in the works now -- with a modified set of incentives designed to encourage hiring.
Extend unemployment benefits: Unemployment benefits were lengthened to the current 99-week maximum in 2009 and reauthorized five times since then, most recently at the end of last year. That 13-month extension cost taxpayers $56.5 billion.
The deadline to apply for extended federal benefits expires in the first week of January. The administration could ask Congress for another extension. The idea is to give people more money to spend, which will entice businesses to hire additional workers to meet the demand.
Free trade agreements: Politicians on both sides of the aisle agree that approving free trade deals with South Korea, Colombia and Panama would be good for the economy.
The deals have already been negotiated and have significant bipartisan support, they've been stuck in limbo for several years as Congress stalled on other issues. Lawmakers might finally approve the deals soon, with a little extra prodding from the Obama administration.
Patent reform: Before escaping on summer recess, Congress was close to approving a bill that would fundamentally change the way the government treats intellectual property.
The idea is that easing the massive backlog of pending patents will provide a measure of economic stimulus as the process starts working more effectively. But skeptics abound, with many saying the bill won't reduce litigation.
Payroll tax cuts: Thanks to the tax deal struck in late 2010, workers are enjoying bigger paychecks this year, a stimulus measure that cost $112 billion.
Employees normally pay 6.2% on their first $106,800 of wages into Social Security, but they are now paying only 4.2%. That tax break is set to expire at the end of the year, and Democrats would like to extend it.
Subsidized jobs training program: The administration might propose a program modeled on the "Georgia Works" initiative that would allow those receiving unemployment insurance to be placed at a local company for up to eight weeks of training.
Participants don't get paid, but they do get to keep their jobless benefits and receive a stipend of up to $240 for transportation and other expenses.
Help municipalities issue bonds: The now-expired Build America Bonds program might be on its way back.
A hugely popular Recovery Act initiative, Build America Bonds allowed state and municipal agencies to issue taxable bonds, with the federal government subsidizing 35% of the interest payments.
The program could be revived. And money agencies raised could be used to rebuild highways, shore up bridges and upgrade rail systems.
Repatriation tax holiday: American corporations currently have more than $1 trillion stashed overseas in order to avoid paying the 35% corporate tax rate.
If lawmakers were to pass a so-called repatriation holiday, corporations would be allowed to bring that cash back to the United States while paying a reduced tax rate. In theory, corporations might choose to hire more workers with that money.
It should mean a boost for federal coffers as well. If $1 trillion were brought back at, say, a 5% tax rate, the Treasury would net $50 billion.