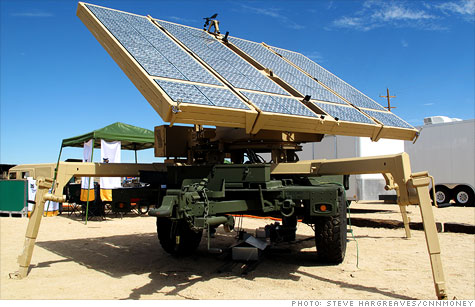 Most of the vendors trying to sell the military the latest in solar and fuel efficiency equipment are start-up firms. Watch them sell solar to the Marines.
TWENTYNINE PALMS, Calif. (CNNMoney) -- Spurred by a desire to save money and lives by reducing the number of vulnerable fuel convoys they depend on, the Marines last month invited 13 companies to their desert base to pitch them the latest in battlefield solar and fuel efficiency technology.
On display were contraptions in various stages of development -- everything from an advanced concentrated solar array that tracks the sun's movements to a box-like solar hot water heater and power generator.
With its deep pockets and penchant for cutting edge technology, the military is seen as a key customer in this space.
But looking around the proving ground, 150 miles east of Los Angeles, one element was noticeably missing: the big players in renewable energy. No Sharp, no General Electric, no SunPower.
The companies that showed up were almost all small startups.
In fact, the box-like hot water heater was literally built by a bunch of guys in a back yard.
Industry analysts were not surprised.
"Most of the innovation happens at the small-company level," said Sheeraz Haji, president of the Cleantech Group, a research firm. "With the big companies, it's harder to start something new. When you're just starting out, it's easy to be a disrupter."
But it wouldn't be accurate to say big companies are ignoring the military. It's just that they're focusing on larger military projects.
At this event, the Marines were looking for smaller frontline systems that can be dispatched to remote bases, not the multi-megawatt, utility-scale power stations that the big renewable energy companies are targeting.
Matt Campbell, utility product director at SunPower (SPWRA), noted that his firm recently constructed a huge solar panel instillation at Nellis Air Force Base in Las Vegas.
But the most advanced renewable technology is often at the smaller firms.
"Once upon a time, companies like IBM (IBM, Fortune 500) and AT&T (T, Fortune 500) had cutting-edge labs where they did almost pure science," said Campbell. "But big companies tend not to make those kind of investments anymore. Venture capital firms have replaced those labs."
Similar to what happens in the software or telecommunications field -- think Google's (GOOG, Fortune 500) purchase of Android -- Campbell said often times a smaller company will get bought buy a bigger player once it puts itself on the map.
"A lot of the small companies push the envelope" technology-wise, he said. "Then a company like SunPower comes in and pushes the commercialization of it."
A spokeswoman for General Electric (GE, Fortune 500), a leading wind turbine maker and big researcher in other forms of alternative energy, said plenty of innovation happens at larger firms. But she agreed that buying a smaller firm with gee-whiz technology is often how bigger companies remain at the tech forefront.
The Marines said 60 companies responded to an open call to pitch at this year's event, known as Experimental Forward Operating Base. But informally, hundreds of companies pitch the Marines each year. Only 13 made the final cut to come out.
"It's one thing when you have a vendor come to you down at the Pentagon, hand you a shiny brochure, and say 'this is my system,'" said Colonel Bob "Brutus" Charette, a former F-18 fighter pilot who's now helping lead the Marines' efforts in renewable energy. "It's another when you get them out here in the field and see what they can really do."
What they could really do varied greatly.
The concentrated solar tracker, developed by an Israeli company and mounted on a military trailer, was producing enough power to support the full gear of a dozen or so Marines in the field.
The solar-box, small enough to fit in pickup-truck and known as the Hoplite, was pumping out enough to power a single laptop.
"We built it by ourselves in Maine," said Ken Hale, president of Northern Lights Applied Sciences, the seven-man firm that built it. "We used all commercial parts right off the shelf. We wanted to keep it simple, lightweight, mobile and tactical."
It's easy to dismiss the Hoplite as something that will never really work. But when it comes to technology, one should not be too quick to judge.
"Steve Jobs started in a basement, HP started in a garage," said Peter Asmus, an energy analyst with the cleantech firm Pike Research. "They have to start somewhere."