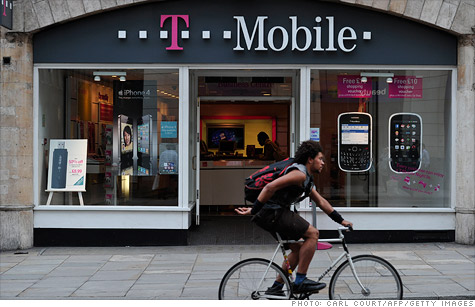 NEW YORK (CNNMoney) -- The government's antitrust lawsuit is bad news for AT&T, but it's potentially disastrous for T-Mobile.
The nation's fourth-largest wireless carrier was in a precarious financial position before AT&T presented its $39 billion white knight bid in March. Since then, T-Mobile has largely sat on its hands, watching its profit, sales and market share sink as it goes without any major handset or network upgrades.
If the U.S. Department of Justice succeeds in its attempt to put the kibosh on AT&T's merger bid, T-Mobile's remaining options won't be pretty.
The company's current owner, Deutsche Telekom, has been looking to exit the U.S. market for more than a year now in order to focus on its European business. T-Mobile's ability to keep up with rivals' expensive 4G networks is fading, and its German parent company grew to view T-Mobile USA as a white elephant.
But until AT&T (T, Fortune 500) swooped in, there weren't many potential suitors raising their hands. If the deal is nixed, analysts say there's even less reason for anyone else to buy the company -- at least not for anything close to $39 billion.
The legal battle between AT&T and the DOJ is expected to be a lengthy one. By the time it's settled, T-Mobile's financial and competitive problems will be further exacerbated.
"Not having 4G isn't a big problem now, but in two years, with AT&T, Verizon and even Sprint expanding their networks, it will be," said Frank Louthan, analyst at Raymond James. "That's just going to cause more customers to churn off."
T-Mobile does have a few things going for it. If the deal gets axed, AT&T would have to send Deutsche Telekom $3 billion in cash and an additional $3 billion-worth of wireless spectrum. (See correction below.) It's a nice consolation prize, even if it's not enough to launch a 4G network alone.
And some industry analysts believe that the mobile field is such a high-growth sector that someone is going to want to take a serious look at buying T-Mobile, should AT&T be prevented from doing so.
"Wireless is the key to the kingdom," said Rob Frieden, professor of telecommunications and law at Penn State University. "Spectrum is so valuable. I refuse to believe that the U.S. market is not attractive enough for someone to want to make T-Mobile into a real 4G player."
The candidates
Even if T-Mobile is viewed as an attractive asset, the question is who would -- and could -- buy it. That's where it gets tricky.
Google is the name most frequently thrown out as a potential suitor. Given the search giant's grand mobile ambitions, it's possible that Google might want to become a carrier one day.
But the company's quest to buy Motorola Mobility likely killed any chance of T-Mobile also going to Google. Analysts say Google (GOOG, Fortune 500) already faces a tough regulatory review to get its Motorola deal passed. A T-Mobile bid would make approval far rougher.
Cable, satellite and Internet providers -- like Dish Network (DISH, Fortune 500), Comcast (CMCSA, Fortune 500), Windstream (WN) and CenturyLink (CTL, Fortune 500) -- have also been mentioned as likely candidates to buy T-Mobile if AT&T doesn't. Bidding for T-Mobile would be consistent with these content delivery networks' strategies.
Dish announced earlier this month that it intends to deploy a 4G network by 2014 to compete with 4G wholesale provider LightSquared. CenturyLink used to be a wireless provider, so it has experience in the industry.
But T-Mobile would be costly for those companies, which operate low-margin, slow-growth businesses. That's particularly true for Comcast, which just completed an expensive merger with NBCUniversal.
"If the price fell enough to where they feel like they could try it out, maybe they'd make a deal, but anything close to $39 billion would be a very tough play for them," said John Marick, CEO of Consumer Cellular, a Portland, Ore.-based regional wireless provider. "And even then, they'd only be coming into the industry at No. 4."
And, of course, there's Sprint Nextel, the company everyone thought would buy T-Mobile before AT&T stepped in. But there are many reasons why that deal couldn't get done.
Sprint (S, Fortune 500) already operates three separate networks, each with different technologies. With its LightSquared partnership, it could be looking at a fourth, and a T-Mobile purchase would add a fifth -- T-Mobile operates on a different network standard than Sprint (but the same standard as AT&T).
Integrating yet another wireless technology would be costly and painful -- two things the struggling Sprint can't afford at this point.
Whether it's to AT&T or some other company, T-Mobile is almost certainly going to be sold. But if it's not bought by AT&T, T-Mobile may have to settle for a fire-sale price.
Correction: An earlier version of the story incorrectly stated that AT&T would have to give $3 billion in a break-up fee to T-Mobile. In fact, AT&T would have to give that money to T-Mobile's parent company, Deutsche Telekom.