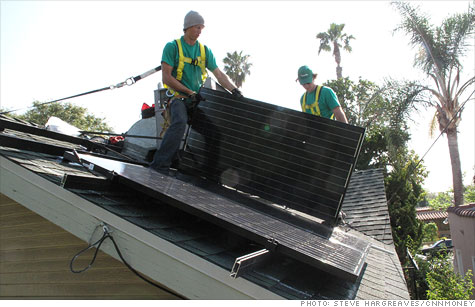 A new federal loan guarantee will put 160,000 new solar installations on top of military housing in 34 states. See SolarCity in action.
NEW YORK (CNNMoney) -- Residential solar power provider SolarCity and the U.S. government announced a deal Wednesday to put solar panels on military housing units, a move that could double the number of rooftop solar power installed in the United States.
The complex plan calls for SolarCity to receive a $344 million Department of Energy-backed loan from financiers U.S. Renewables Group and Bank of America. (BAC, Fortune 500)
SolarCity will then use the money to put up to 160,000 rooftop solar installations on top of privately run military housing complexes at 124 military bases across 34 states.
SolarCity will own and operate the solar panels, and the companies that own the housing units will send a monthly check to SolarCity for the electricity.
For the government, the deal allows the U.S. military to move toward its goal of getting 25% of its electricity from renewable power by 2025. It also furthers the Energy Department's goal of supporting the commercialization of solar power.
"This is the largest domestic residential rooftop solar project in history," Energy Secretary Steven Chu said in a statement announcing the deal. "It can also be a model for other large-scale rooftop solar projects that help America regain its lead in the solar industry."
For SolarCity, which recently received major financial backing from Google (GOOG, Fortune 500), the deal is a windfall. The company has installed 16,000 rooftop units since its founding in 2006, so this program will boost its business by a factor of ten.
"This is a massive kick of momentum for the company," said Lyndon Rive, SolarCity's CEO and founder.
Rive stressed how the deal is nearly risk-free for the lenders and government, with SolarCity putting up its own money for the panels and only getting reimbursed by its lenders after each project is complete.
The SolarCity news comes after a tough spell for the industry, with solar companies Solyndra and Evergreen going belly-up in the last couple of weeks.
The Energy Department also backed Solyndra, and the Obama administration has been taking heat for both that bad loan and for focusing too heavily on green jobs that some say haven't panned out.
The SolarCity award shows that the administration is not giving up its loan guarantee program or its push for green jobs. SolarCity predicts that the initiative will create 6,000 jobs over the next five years.
Rive says that his company, which takes a proven technology and works on distributing it, is a safer bet than a company like Solyndra, which made cutting-edge experimental products.
It was the loan guarantee from the government and SolarCity's willingness to use its own cash at first that enabled the firm to get such a low-interest loan from commercial lenders, Rive said.
And it's the low-interest loan that's making such a large project possible. Rive said many of the projects are taking place in states with no solar power subsidies. He's using the low capital costs and subsidies from other states to offset the higher costs in states with no incentives.
"Now the solar industry has a debt model that can make distributed generation affordable on a massive scale," he said.
In a bid to nurture the clean but expensive technology, the federal government subsidizes about 30% of the costs for solar deployments. State and local incentives can cover anywhere from zero to another 30%.
The federal government spends about $12 billion a year subsidizing all forms of renewable energy production, with the vast majority of that going to the wind and ethanol industries.