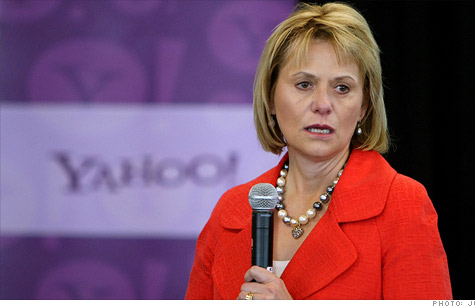 Former Yahoo CEO Carol Bartz will get millions in cash as part of her severance, and she'll score tens of millions more in stock.
NEW YORK (CNNMoney) -- When Carol Bartz says she wishes Yahoo "only the best going forward," she means it -- her severance package leaves her with millions of dollars tied to the company's stock performance over the coming year.
Bartz pulled down a base salary of $1 million per year as CEO of Yahoo (YHOO, Fortune 500), and piled up tens of millions more in stock grants and cash bonuses. Yahoo ballparked her total compensation for 2009, her first year of service, at a whopping $47.2 million -- though most of that is a paper gain based on stock options that may not ever pay out.
Bartz's two-and-a-half-year run ended Tuesday, when she was unceremoniously sacked by phone, with 16 months left on the four-year contract she signed in January 2009.
Yahoo said in a regulatory filing Wednesday that Bartz was fired "without cause," meaning she's entitled to a massive severance.
First, there's the cash. Bartz's contract gives her a lump sum of $3 million, plus a pro-rated 2011 bonus that will add an additional $1 million to $2 million to the coffers.
But the real payout will come in stock. Bartz has a series of stock grants that cash out immediately upon termination.
In its latest regulatory filing on executive compensation, Yahoo offered a ballpark, hypothetical figure: $5.2 million. That's how much Bartz would have collected in stock payouts had she been fired Dec. 31, 2010, the final day of Yahoo's most recent fiscal year.
Including both cash and stock, Bartz's payout for getting fired last December would have totaled $10.4 million, Yahoo reported. The company hasn't updated its filings to reflect how much she'll collect based on her actual September 2011 termination date.
But there's more.
Bartz received a complex stock option package when she joined Yahoo giving her rights to up to 5 million shares of stock at a strike price of $11.73, Yahoo's closing price on Jan. 30, 2009. Based on her length of service, Bartz is eligible to collect the vast majority of those shares -- but they'll only vest if Yahoo's stock hits a series of price milestones, ranging from $17.60 to $35.19.
The final price reckoning comes in December 2012, just before her contract would have ended. If Yahoo's share price is trading "in the money" that month, Bartz gets her payoff.
Things are already looking brighter for Bartz in that respect.
Yahoo shares were up 4.2% in midday trading Wednesday, one day after Bartz's firing. Ironically, one of the investors who could benefit the most if Yahoo pulls off a post-Bartz turnaround is Bartz herself.